ASK Cub Reporter, A Weekly Q & A Session- Version 08.02.2010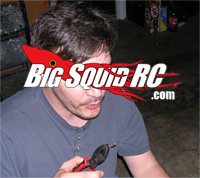 Is it just me or am I a day late with this as well? 🙂 Let's get on with your questions/comments….
==========
"I've really enjoyed your battery and charger shootouts. It's nice to see
someone take a somewhat scientific approach to this stuff. Too many people
make crazy assumptions that if you pay 3X as much for something, that it
must be 3x better, and your shootouts show quite well that some of the
cheaper options are just as good (or nearly so) as the pricey stuff.
I was wondering if you've ever considered doing a similar shootout for transmitters/receivers? I picked up a ridiculously cheap 2.4GHz flysky GT-2 a couple months ago, and it performs flawlessly for what I use it for. But every time I recommend it to someone, they always say "if it's that cheap, it must be junk". I think you should compare the GT2 and fancier GT3 to the some of the more expensive (futaba, spektrum) units and see if you really do get anything extra for your money with the name-brand stuff.
-Chip Andre
Cubby– Yo what's up Chip Andre? Perhaps you and I are from the same mold? I'm the type of person that would much rather test first hand and find out if a $500 part is REALLY better than a $80 one. While I'm sure at some level all the marketing hype does affect my view of products, but I'm the type that takes anything and everything said in an advertisement with a very large grain of salt.
As you already know, we've got our 4S Lipo shootout coming up in a couple weeks, but after that, I'd be totally stoked to do a radio shootout. The rest of the staff and myself have already shot around test categories, ones that we can truly measure, and ones that really matter at the end of the day. Just like you, I'd like to know if in fact a uber high-zoot $300 transmitter is truly worth the money over one that only costs half as much. Perhaps we'll find out in a couple months?
==========
Cubby
I just bought a new Jammin 4×4 SCRT-10 and I want to put the best of everything in it. So far I've picked up a Castle brushless system and Pro-line wheels and tires. Cubby what would you recommend for best the servo?
Jammin4by4
Cubby– What's up Jammin? Ya know, Hitec is an advertiser here on BigSquid, so that instantly will make a lot of people think I'm kiss'n advertiser a$$ if I say Hitec. Fortunately, I really don't give a damn what the internet pundits think, but if I thought Hitec sucked, I'd certainly say so as my pay stays the same no matter how many advertisers we have. But, I know for a fact that Hitec is a kick a$$ company, with some seriously kick a$$ product, with outrageously kick a$$ customer service. Hitec used to be the company you went to for an affordable servo, now days they are the company you go to whether you are looking cheap or the very best.
To get to your question, if I had to recommend one Hitec servo to you, I'd recommend the Hitec 7955.. The 7955 is not ridiculously fast, it's just the right speed on 6 volts, has a butt-load of torque, and a very burly drive train. It's also a workhorse that can take an incredible beating. Just be careful when setting up your endpoints, it's got enough torque to rip the arms off that Jammin if it's not set up right. 🙂
==========
Please forward to Cubby,,,
Do you race or bash or what?
Burke R.
Cubby– When I see a question like that one, first thing I think to myself is "why would anyone care about that?". To really answer your question, yes I race every weekend, AND yes, I bash every week as well. My racing weapon of choice right now is the Durango DEX410 2010 Spec, and my bash-mobile of choice right now is an HPI Vorza. I am 35 years old, my blood type is B+, I like a shot of Red Bull in my vodka, and I lost my virginity at age 17 (her name was Wendy and she had red hair). Any other questions? 🙂
==========
That's it for this edition, send in your questions, comments, etc to cubby at BigSquidRC dot com!
YOUR Cub Reporter