ASK Cub Reporter- A Weekly Q & A Session, Version 11.11.2010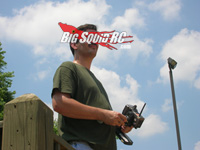 Meng Tzu once said, "When a man's finger is not like those of other people, he knows to feel dissatisfied; but if his mind be not like that of other people, he does not know to feel dissatisfaction. This is called ignorance of the relative importance of things."
With that, we are on to the first letter of the week…
==========
"hi hassan from new zealand
hi there how are u i hope u fine, do u have any branch in newzeland auckland city,if u dont have any branch please tell me how can i get new race car from your stor thanks"
Cubby– Kia ora Hassan. Thanks for taking the vast amount of time it must have taken you to write such an eloquent email.
I am sorry to inform you that our Aucland City BigSquidRC Mega-Store isn't scheduled to open till June of 2031. But today is your lucky day! I just happen to have a mint Traxxxas T-Maxx "race car" sitting here in my office. While it personally hurts me to do so, I will sacrifice this gem of a "race car" to you for the low price of eight thousand American dollars. The best part is- all it needs is a glow plug to get running! Please make the money order out to THE Cub Reporter. Thanks!!!
==========
"hi my name is nathan hulkes i'm a 24 yr old drag racer. there is a group of people running a top speed rc club (one of my friends holding world records and all uk records) They are looking to start a drag racing class as there is a lot interest in the drag racing side plus a lot of interest in it from real drag racing fans and drivers. At the moment ive built a car to the pro mod rules with a DragSPEC kit from rc car kings a mamba max speed controller 5.5turn motor and lipo battery. i was wondering if you would be interested in sponsoring the first real rc drag in the uk. I can see this making you money as i already know my car is the faster from watching the others and they will want a proper drag chassis and parts thank you for taking the time to read my email look forward to hearing from you
best regards
nathan h."
Cubby – What's up Nathan? The rc drag scene in the states seems to gain momentum every year. The cars are typically quite durable, they look good, and most importantly, they are sic Fast! From the sound of your email, it sounds like the UK drag scene is picking up, but it's hard for us to really tell because we aren't over there. So perhaps instead of offering you a full BigSquidRC factory sponsorship (that would include various vintages of Dom Perignon shipped monthly, a Ferrari as your company car, and a small villa on the coast of Ibiza to enjoy on weekends), perhaps you would be the perfect UK correspondent for us. All the staffers here, and hopefully our readers too, would enjoy getting some weekly insight on what's kick'n on the other side of the big pond.
==========
So there's your weekly sampling from our email box. It's like a box of chocolates, you never know what you are going to get. Submit your questions, answers, chocolate candies, and dna samples to Cubby at BigSquidRC dot com!
YOUR Cub Reporter