ASK Cub Reporter- A Weekly Q & A Session, Version 12.2.2010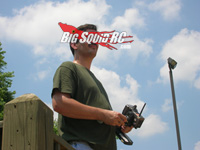 Tis' the season to email Cubby. Let me present to you this weeks stellar letters….
==========
"ok so i have a mamba max pro st up in my Traxxas bandit(similar to the rustler). the motor has a 2s limit and heats up fast even geared low. i was wondering what you thought of Novak ballistic motors, they seem to be good but i don't know about the heat problem. i even use a heat sync with a fan. the mamba motor is to hot for my liking. so what would you recombine for a good 3s capable sensored or sensorless motor, preferably under $150. i will continue to use the mamba max pro esc because the esc is awesome. hope you can help.
Joe"
Cubby– Hola Joe, thanks for the letter. In regards to the Novak Ballistics, sorry I haven't driven one of them, so I can't give you any first hand advice. I refuse to speculate or regurgitate internet speculation on them, so I'll comment on a motor I have used. So, as far as what I'd recommend to put in your Bandit (fun to drive buggy btw), I'd say a new Castle 1406 series 4600 kv 4 pole motor. Castle got with their homeskillet Steve Neu on these, and they are the best bang for the buck on the market right now. The Neu-Castle 4600 is rated for 3S, has more torque than their old CM-36 series motors, and is just plain uber.
Oh, and to help keep temps down, check your drive-line for binding, keep your timing as low as possible, and of course, start with a REALLY small pinion and work your way up.
==========
"Hallo
i have a question. can i use the Maxamps 24 power supply on this hyperion charger? Hyperion EOS 0615i-DUO3+, 2x6S-600W Charger Hyperion EOS 1420i NET3 Charger – 1S-14S, 20A max, 550W
Howmany to shippingcost to send to Belgium ? can you send it as a " Gift " with a lower invoice ?
Greetings Dirk"
Cubby– W T F? How did you get my email address? (Crap, I post it every week! LOL)
Ok…. I have now managed to composed myself thanks to watching the Lt Aldo Raine scene "You probably heard we ain't in the prisoner-takin' business; we in the killin' Nazi business. And cousin, business is a-boomin'." from the movie Inglorious Bastards.
Anyways, yes, you can run the MaxAmps 24 volt power supply on both the Hyperion 0615i Duo3 and on the 1420iNet3. Both are uber chargers, truly choice if you have the means.
How much would it cost to ship a MaxAmps 24 volt power supply, a Hyperion 0615 and a 1420 to Belgium, and can I send them as a "gift" to avoid your tariffs? Boy do I have a deal for you. 🙂 How about we just do a trade? I'll trade you the rc gear for two small South African coins called Krugerrands. Even up, and you ship first Dirk. 🙂
==========
That's it for reader questions this week. Submit your questions, random thoughts, and hot pics of your x-girlfriend to Cubby at BigSquidRC dot com!
YOUR Cub Reporter