ASK Cub Reporter, A Weekly Q & A Session, Version Good News Vs Bad News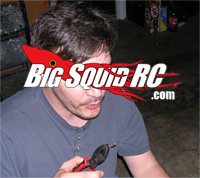 Aha, you have once again found the BigSquidRC mailbox department, congrats to you!
This week for something a bit different, I am going to start off with a little "Do you want the good news or the bad news first?" dealio. So what do you want first, the good news or the bad news? Well, seeing as how you really don't have a choice, I'll start with the good news. 🙂
The Good News- A brand spank'n new HPI Mini-Trophy Truck is sitting on my desk. Awwwww yes! Indeed it is a beautiful steed. It's so pristine, never driven on a dirty track or jumped off the top of a drivers stand (yet!). My mouth is just watering…..
The Bad News- Brian says I can not even take it out of the box until he does the official un-boxing piece on it later tonight. Arrgghhhhhh!!!!!! (See the unboxing pictures HERE!)
The Really Bad News- For you moto guys, Josh Hill was seriously injured over the weekend practicing for X-Games. Josh, a factory L&M Yamaha rider, was working on pulling backflips and under-rotated, and well, he got slammed pretty hard- broken femur, broken pelvis, punctured lung, and broken arm among other things. Josh is one of the good guys on the AMA Supercross tour, sucks to see him injured, but hope he heels up quick and comes back riding faster than ever! Click HERE to see the TransWorld video on how Josh is doing.
Now on to your questions….
==========
Hey Brian ,
I've noticed the Tim Mohr video that you have written about at https://www.bigsquidrc.com/tim-mohr-record-long-jump-video/ and have a couple of questions , if they weren't too much to answer it.
What kind of buggy/truggy was that , i've been leaning into the 1/8th electric scene , so am virtually open to market. If you could remeber the details that would be greatly appreciated since i might be looking to buy that specific model.
Thanks
~Pat
Cubby– I love stealing Brians questions. What's up Pat? Tim is one of our contributors here, and Hot Bodies is one of his sponsors. I placed a quick call to him and he confirmed he was using a Hot Bodies Ve8 buggy. You can find more info on it HERE. He went on to say it was pretty much stock except for stiffer springs, stiffer shock oil, and a pretty burly power system consisting of a Castle Monster speedo, Neu/Castle motor, and a high cell count MaxAmps Lipo battery.
==========
Hi-
Cub Reorter what is the fastest rc car you have ever seen?
Garrett
Cubby– How's it hang'n Garrett? The fastest I've EVER seen?? Wow, thanks for asking an easy question. Well if you include video that's easy, Nic Cases speed run car on YouTube doing 160mph+. If you are talking seen with my own two eyes, that answer is also easy, that would be a guy that goes by the handle StingRay, watching his electric rail dragster go 100 mph+ in 132 feet. Both cars put anything you or I have driven to shame as far as speed and power are concerned.
==========
That's it for this incredible edition of ASK Cub Reporter. We desperately need your questions (well, not really), so shoot'em to us at Cubby at BigSquidRC dot com!
YOUR Cub Reporter