ASK Cub Reporter- Pass The Eggnog It's Nearly Christmas- Version 12.23.2010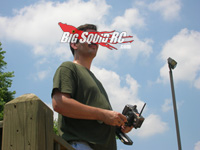 Ya know, lots of people are off work this week, but not your hard working/under paid Cub Reporter. Lets see what sort of stuff we have in the giant mail bag this week shall we?
---
Dear santa cubby all I want for christmas is a shiny new schumacher cougar SV pro kit, can you drop one in my stocking when you fly by? I have not thrown my Nomadio across the pits all year but I did curse one slow and deaf corner marshal. Thanks.
Roger C. Canton Ohio
Cubby– Roger, contrary to popular belief, I am not Santa Claus, and nor do I have infinite pallets of uber Cougar SV Pro's sitting in a marble floored warehouse. But, (and there is Always a "but") the good guys over at A-Main Hobbies can probably hook ya up with one for a few hundy. Hit'em up HERE. A-Main has stocking Schumacher for quite some time (a good thing since Schu seems to have bailed on the states), hopefully they'll have what you are looking for in stock. Peace and love, peace and love.
---
Brian-
I think you guys have a great idea there in that shootout. I hope the new Team Durango SCT will be out in time as that truck looks to be SUPER! I know they aren't as interesting to some but I think it would
be cool to have a shootout with the new Losi SCT, Blitz ESE, and FT SC-10, just to see how the top 3 stack up. The other suggestion that I thought was neat was the SCT ESC-Motor combo shootout.
Also, what MaxAmps battery did you use in the Blitz when you did the Castle SCT review?
Cheers Jon A.
Cubby– Yo what's up Jon, thanks for the email (ya, I stole one out of Brian's box).
Amazing the progress Durango has made in the American market in the last 20 months isn't it? You gotta love their gear, it's uber high-end, with some unique twists, and yes, their short courser looks pretty gnarly. We've been wanting to do a SC shootout forever, hopefully it'll come together this time, Durango included. We were kicking around ideas on what some of the categories would be the other day, some of our ideas for the "durability" testing were pretty burly, I think you guys would really dig it. 🙂
We've also talked about a SC speedo/motor shootout, but I think we've settled on a "lowest price point" version. We'd like to take the lowest price point Castle/Novak/LRP/Turnigy systems and test'em to see how they shake out. We'll see if it comes to fruition.
I wasn't there for the Castle SideWinder SC review, so maybe Brian will pipe in here to let people know what battery he was using. (From Brian: During testing we used Team Checkpoint 5000 40C and Ace 5000 40C packs)

---
i would like to see a few things from hobbypartz.com in the shootouts. the prices are dirt cheap for the value. ive only read good reviews on the products. id like to see them put to a real test with the competitors.
of course you pick discharge and mah, and one of the radio systems. if you can do it thats awesome, if not oh well i had to try. thanks, kyle
Cubby– Well Merry Christmas Kyle, and thanks for your well stated letter.
Being at a track 3-7 days a week, I see a lot of the HobbyPartz stuff running, some seems work just fine, some not so well. Of course that eludes to a major function of how well any part/hop-up/batt/transmitter does in the field is the person using it. With that said, ya for sure, our entire staff has been biting at the bit to test some HobbyPartz gear, and we've even tried in the past, but they didn't have in stock what we needed for the shootout. Maybe if they can maintain a proper inventory level we can get our hands on some test gear in the future.
That's it for this weeks holly and jolly ultra uber Christmas edition of ASK Cub Reporter. Send us your questions, comments, stories and outright lies to Cubby at BigSquidRC dot com.
YOUR Cub Reporter