ASK Cub Reporter- So Many Questions, So Few Answers (From Me At Least)- Version 03.30.2010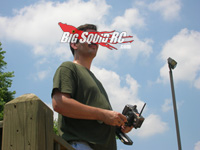 hey fellas,
First off my name is Vern. My brothers an i have been racing the pavement with our rc cars since i was old enough to hold a controller. Well it has come time to let my son run the ropes. For the past six weeks i have been looking for a truck thats close to my traxas slash and losi strike for a starter for my 4 year old. i was on youtube and found a couple of duratrax evader dt videos by or for big squid rc. Soooo i looked in to the truck, and for a few more days i pondered. I found more videos and one some one drove it full speed in to a curb! wow! Any way just want to thank everyone at big squid for the forums and and honest opinions and product stress test"curb test"i didnt feel like u were tring to sell a prouduct. the reviews were real and solid. Unlike my local hobby shop where i can never get a strait answer on what a product is worth and how durable it is. i ended up getting the duratrax dt for my son. Well now he sleeps with it right next to him he is so proud that him and i can race. thanks for helping me make the right choice. as far as my sons
driving, nothings broke but mybe my pride,crushed in a drag race. i didnt change my remote battries never got off the starting line. I hope to see Big Squid around for years to come! my next rc will follow one of your reviews and product videos!

"may the pavement lead to dirt, and dirt to epic jumps " safe driving! A new fan of big squid rc.
vernon r.

p.s
i told my friends about you.
Cubby– Thanks for the kind words Vernon.
BigSquidRC is a site aimed right at the vast majority of people in our hobby-backyard bashers. And while bashing, drivers hit things like curbs Really hard. Our readers slam curbs on a daily basis, we pound curbs with our personal vehicles, so while testing it's only fitting we tag a few curbs wide open. Some manufactures hide their heads in the sand thinking their trucks will never take such a pounding, and if they do, they consider it customer "abuse". Fortunately for you core bashers there are other companies that know what really goes on in the real world and build their products to take some pretty gnarly hits. Glad to hear your son is loving his Duratrax DT, it is a seriously tough (and fun!) truck.
ps- You must have told a lot of friends because our numbers are through the roof lately!
---
Hey guys,

After getting back in the hobby, I've noticed that lipo/brushless systems are all the rage now and have touched every facet of rc. So I'm wondering. where are the 1/8th scale brushless truggies? I've seen several companies with their versions of brushless buggies but no truggies. Associated had their RC8Te but was discontinued after a short while. I thought the brushless truggy scene
would've exploded when the Mamba Monster systems (and other large brushless systems) were released. Any insight? Did I miss something?
ThanX,
Joe
Cubby– What's up Joe? Thanks for the email.
IMO truggies can be considered superior to buggies in many areas. Truggies handle bomb'ed out tracks better than buggies do and truggies make better bash/jump machines because they have greater ground clearance. The bigger truggy tires handle bumps better, and there is more room inside for higher cell counts and/or larger motors.
And no Joe, you didn't miss anything, but consumers have voted with their wallets, and that vote says they prefer E-buggy over E-truggy. And why is that? I think it boils down to two reasons- keep reading..

1. BL/Lipo has a high start up cost. Setting up an E-buggy digs into the bank account fairly deep, then buying a truggy, a conversion kit, a speedo, a motor, more batteries, and perhaps another battery charger simply costs more than what a lot of people are willing to spend in this economy.
2. A lot of people that did have spare cash for another vehicle spent it on a short course truck rather than on an E-truggy. Short course trucks are the "big" thing right now, and 4wd SCs drive a lot like an 8th scale, so why not have similar performance and get the scale looks to boot?
In the demented dream like state that I live my life in- I envision all "regular" racing classes mandated to scale appearance except for one- the "unlimited/open/non-scale/anything goes" class. And out of all the non-scale platforms out today, the one most suited to be the elite class would be truggy, it's simply the best suited for outdoor tracks where most off-road racing is held. And of course it's also well suited to bashing.
---
Brian,

Last night after i ran my lipo i took it out and it is all puffed up. I am worried, what should I do?
Aaron R.
Cubby– Hey ya Aaron, thanks for the email.
Yes Aaron, you should be worried, very worried indeed. Ever watch the footage of the US military testing nuclear bombs in the Nevada desert? Well a puffed Lipo can deliver 10 times the effect blast power. If I were you I'd put the pack on the first flight headed for outer space, it's your only chance of saving human life as we know it. Thanks in advance!
But seriously… your Lipo puffed, meaning it vented gas internally. Oxygen released from the cathode is that gas. Your battery is damaged, so quit using it and discard it. Here's what I recommend for getting rid of it safely-
1. You need to fully discharge the Lipo. The deeper the discharge, the safer it is, and this needs to be done at a slow rate. I recommend hooking a single automotive brake bulb to the battery, this will discharge the pack at a safe rate (around 2 amps). Be sure to do this in a well ventilated and non-flammable area. I'd recommend leaving the bulb on the pack for 24 hours after the light
has gone out.
2. Discard with your normal trash, or take it to a local battery recycling spot (my local Radio Shack takes'em).
---
That's it for this week, shoot us your emails to Cubby at BigSquidRC dot com!
YOUR Cub Reporter