Ask Cub Reporter, Version 03.04.2010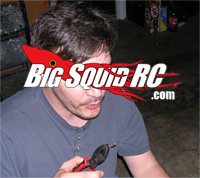 Hey Cub-ster,
I know you guys are all about bashing and so am I (hence the reason I bought a Savage X as my first RC in twenty years and is my first nitro truck, I love it!). However, I am thinking about getting into RC racing and I think a good place to begin would be 2WD stock CORR events at a local track. Which truck is better between the Associated SC10, Traxxas Slash and the HPI Blitz? How about a shoot-out between the three?
Also, I know batteries have come a long way since I was a kid with a Tamiya Hornet but the batteries out now are making me nervous about making the jump from nitro to electric. The battery performance that I remember as a kid (run for 20 minutes then back in the house for four hours to recharge) and the cost of extra batteries are keeping me from plunking down my hard earned cashola! Please help!
Thanks,
Dean T. (aka- Captain Khaos)
—–
Well hello Captain Khaos, that's a true bashers handle right there. I think my wife might call me that at times after jumping my Revo off the roof of my house and accidentally landing on top of her Audi. But such is life……
Btw, CORR died a very sad death. The CORR sanctioning body folded before they even got to hold there season finale event a couple years ago, which left a lot of driver, spectators, and sponsors with a bad taste in their mouths. Two new sanction bodies have picked up the flag since then, The Lucas Oil Series (that AE is involved with) and the TORC Series (that Traxxas is Huge into). So instead of using the CORR label, using the term short course works a lot better. 🙂
The 2wd short course class is a great class to get into. All the trucks are pretty durable and you just can't beat how damn cool they look going around the track. So what's the best SC truck to race with?
If your local track has very low traction and is fairly rough, the Slash is still a great bet. Traxxas really hit a sweet set-up right out of the box. The progressive springs and light compression and rebound damping work great right out of the box on the slick stuff. The only weak spot are those pesky shock caps that like to come off at the worst possible moment, but that is easily fixed by putting metal caps on (assuming your local track allows that mod, most tracks do).
If your local track is high bite and smooth, or you plan on racing mod, the HPI Blitz is the truck to get. The Blitz has class leading mechanical grip in the corners, and it's a lot easier to get a good set-up on it than the AE SC10. To boil it down, it's super easy to drive, and it's just plain fast. Races are won in the corners, and the Blitz has class leading corner speed on high bite tracks. The main downside to the Blitz is the steering. If someone is a total noob, the stock steering is awesome as it's set up to not steer too quickly. If you are an experienced driver, you'll be looking for a higher torque servo and a tighter turning radius. Throw in a servo with at least 100 oz/in of torque, and do a little grinding on the front hubs and hub carriers to gain more turning radius, and you are dialed.
A short course shootout would be awesome. We already have a test Slash, Blitz and SC10. However, I think my constant bashing of Horizon and Kyosho are preventing the BigSquid crew from acquiring a Losi Strike and a Kyosho Ultima SC. That or those two simply don't have the balls to see how their trucks stack up.
About today's batteries- they are no joke. Good packs aren't cheap, and all of the packs out there can be dangerous if not used properly. Go too cheap on a pack and the cells are prone to early failure and are just plain slow. If I had to recommend one pack to you, it'd be a Ni-mh 5000 mah pack like this ONE. There are tons of chargers on the market that will charge Ni-mh cells (and Ni-mh's are not prone to thermal runaway like some of the Lithium based cells), and with 5000 mah of capacity on tap, you'll have get a ton of run time. Enjoy.
That's it for this session of Ask Cub Reporter. Send your questions to cubby at BigSquidRC dot com.
YOUR Cub Reporter