ASK Cub Reporter, Version 08.12.2010- A Very Weak Q & A Session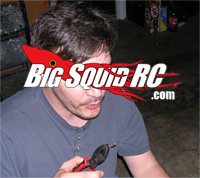 It's Thursday again already? Oh my does time fly around this joint…..
==========
Cub Reporter
When is Losi going to put out something decent for a change?
Hot D*ck Willy
Cubby– Great question, I think? Ok, everybody knows Losi isn't really "Losi" anymore. So to properly re-word your question, it would be "When is Horizon going to put out something decent again under Losi badging?".
Well, the last good "Losi" was the last one designed with input from Gil Jr, everything since has pretty much been crap. Reliability sucks, performance is dismal, and even the looks have been missing the mark. Oh and, all these so called "new" models based on those mini and micro scale Carisma platforms make me want to barf. It still amazes me that Horizon would pay all that money for the Losi name, then do their damnest to ruin it. So when can you expect the next "good" Losi? I wouldn't go holding your breathe on that one….
==========
hi guy, I have an traxxas ruster vxl an I have noticed that the motor has been getting really hot. I have been using a Venom 11.1 volt pack an it be brushless.
thanks guy.
rustler dude
Cubby– How old are you, and what school do you go to? I mean seriously, I butcher the English language but at least I'm get'n paid to do so, it appears you butcher it because you slept through the last 3 (12??) years of English class.
Anyways, it's very difficult to get a 3S Lipo system in a Rustler to run at low temps. Traxxas did their homework and included a fairly low kv motor in their VXL package to help keep temps down on higher cells counts, but even that isn't enough during a long run on a hot summers day. I know running 3S is a thrill and all, and if it's your only option, try installing a smaller pinion, otherwise, you can still get good speeds and lower temps by simply using a 2S pack.
==========
That's it for this week CubFans, submit your questions (yes, even the crappy ones) to Cubby at BigSquidRC dot com!