ASK Cub Reporter, Version 08.19.2010- A Weekly Q & A Session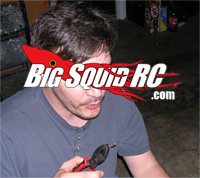 Ya know, I still can't get over that rc airplane hitting a full scale plane video that Brian posted last night….. Anyways, here's this weeks ASK Cubby.
==========
Brian,
Why does Cubby hate Associated so much? I have been a loyal Associated driver since 1993 and have always thought their cars were the best. Just tell him to back it off on Associated and complain about something else.
Chris L. Wright
Ohio
Cubby– Hi there Chris (and thanks Brian for forwarding this to me). I don't hate Associated, even if last weeks Cub Report might have sounded like it. In fact, I really like Associated, but it just irks me (like it does a lot of people) that especially since Thunder Tiger bought them out, that hey have not been the same. Does Associated still have quality products? Certainly yes, without a doubt. Are they the industry leader like they used to be? Hardly. And like I mentioned in THE Cub Report, they still have lots of awesome people there, maybe they are being restrained by the guys cutting the checks, or maybe they've just lost their edge, I have no idea, but I'd sure like to see them back on top again some day. And by "on top", well they still win lots of races, but the "on top" I mean is killing the competition on the sales floors of hobby shops. When the AE I remember was dominant, they won on the track, and everybody owned one (or two, or five). Now days the Ryans kick a$$ on the track, but Traxxas (among others) kick AEs butt in the hobby shops.
==========
To BiGSquid. How do I get a date with a pr0nstar?
Rafael
Cubby– Humm…. How do YOU get a date with a pr0nstar? Well of course the best way is to read BigSquidRC every single day. Actually you should bookmark it and visit at least a half dozen times a day. The more you visit, the more the pr0nstar of your dreams is going to want you. Yes, seriously. I promise. I am not kidding. I sh!t you not. Would I lie to you?
🙂
==========
Holy cow you've once again read all the way to the bottom of the ASK Cub Reporter column. We need/want/desire/can't-live-without YOUR questions, so shoot them to us at cubby at BigSquidRC dot com!
YOUR Cub Reporter
Ps- Don't forget, this weekend is the ROAR electric nats at Leisure Hours Raceway in Joliet Illinois, so if you are within a 10 hour radius, hop in your car and catch not only the best racers in the country, but the BigSquid crew at the event. See you there!