ASK Cub Reporter- Whoa, It Must Be Thursday- 02.03.2011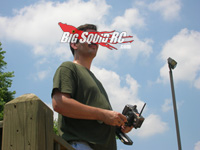 You know what that means… you have questions, we have answers?
---
Hey Guys !! Loyal reader you guys do an awsome job keeping us all INFORMED!! Have a few things on my mind.With the 2 new hats on the field IE the new 4×4 short corse trucks from Losi and AE when you putting a 4×4 short course shootout together?It would only be fair to include them all,Traxxas,Ofna,Durango,Losi,Jammin,and AE. It would be KILLER!!!!!! I have a Hyper 10SC right now and I have to say I have been in the hobby for over 20 years and it seems to be the smoothest and easyest thing to drive yet!I have my eye on the new Losi. I hate AE products just for the fact that everyone always runs em and there is just too many on the market LOL. I always like something different and ALWAYS purchase something different. When I started the pinnacle of rc was 2wd buggy and the track was overrun by rc10s and losi.So what did I start with you ask?I went out and got me a TRX 1.It LOOKED a heck of aloyt cooler,and actually I was
just as competitive.Boy have times changed!! If you would have told me back then that electric offroad vehicles would be aproaching 100 mph I would have pooped out an RC10 LOL.But its great to have guys like you to keep us old farts up on the
new technology.Now if you guys could tell me how to work the remote for my tv that would be great LOL! 1 more thing you guys should make some target stickers so we can all start putting them on AE vehicles on the track.LATER PEACE OUT!! PS THE BEARS STILL SUCK!!! HA HA just had to get that in 🙂
Kevin P
Cubby– Hey ya Kevin, thanks for writing in. And ya, I'm super stoked on doing a 4×4 short course shootout. All the contenders should be in our 40w shock oil covered hands (hopefully) some time early this spring.
I dig your "target" sticker idea. The BSRC logo on a red target background is a brilliant. You and your buddies can apply them to your trucks and have places to aim while you are playing demo derby, and we can mail some to the mags. After all, we aren't aiming for where they are at, they are aiming for where we are.

I've got great advice for your tv remote as well. Some people have Joe Blow electronics in their house, in that case, the Joe Blow universal remote that comes from your cable or dish supplier will work fine. Just take the 10 minutes to program it and you are dialed.
Otherwise, if you are like the rest of us (with a large amount of varying electronics in your man-cave system) buy a Logitech 900. Yes, it's kinda of a shock to the system paying that much for a stink'n remote, and yes, it takes a long time to program and test, but once you are done it's worth every penny to have Complete control at your fingertips in just one remote. Trust me on this one, cut the check.
Ps- The Bears don't suck, Cutler SUCKS. I hope they find his body next to Hoffa's. 🙂
---
when will you guys get the car and how much
Randy/Steph
Cubby– A bit long winded are we Randy (or Steph??)?
When will we get the car? That's a hard one, because I have no idea what car you are talking about. I have a Losi 22 on order, I expect it about a week after the Associated B5 hits hobby shop floors. Does that help?
---
First of all your site is awesome. I'm a full on newb and of all the sites I've come across (and there are many) yours is just suuper informative and easy to navigate and understand. It's like learning about RC from someone who is way experienced, still hot for it, and not a d-bag.
So to my question. Does the Hyperion EOS 720i net3 AD charger (which after your shootout and some research I decided on) charge Gen Ace Lipos (also chosen after much, much research including your two lipo shootouts). Assuming I can get a hold of some, it would suck to find out the charger won't accept them.

One last question. Ignoring that they're a sponsor, just from your personal experience, how do Maxamp lipos stack up to the others you compared? Do they warrant the price? Thanks so much for your time.
Jay
Cubby– Hey what's up Jay, thanks for the email.
All the Gen Ace Lipos (that I'm aware of anyways) are Lithium Cobalt polymer cells. What that means to you is that they will charge just fine on any charger that is intended for "Lipo/Lithium Polymer" cells (not Lithium Ion), and the Hyperion 720 is one of them. So yes, the Hyperion will charge the Ace Lipo's with no problem. One other thing to be careful of is to make sure the balance tab coming off the Ace batteries (which is JST XH) is compatible with the balance charge port that is supplied on the Hyperion (and yes, it comes with a JST XH adaptor). To boil it down, the Hyperion is completely dialed to perfectly charge Ace batteries.
About MaxAmps, it seems to be all the rage these days to bag on MaxAmps. If you looked at the net around 2006'ish, people did nothing but rave about them, then the prices went up and all of a sudden those people that used to love them, suddenly started hating on them. But ok, you asked about my "personal" experience with them, so here it is- I use them all the time, and I like them a lot. My cars/trucks are always among the fastest at the track, and I seem to have less battery problems than people running other brands. There are hundreds of different brands of batteries out there, and I would switch in a heartbeat if I felt the need to, but I've never had a problem.
---
So that's it for this week ya bunch of rc commando's. Send us your questions, comments, leaflets and house arrest ankle bracelets to Cubby at BigSquidRC dot com!
YOUR Cub Reporter