Ask Cubby 01.07.2010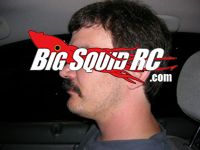 Just a quick note here, starting next week, and all through 2010, you'll be able to find the "Ask Cubby" column each Thursday, and "THE Cub Report" posted every Monday morning. Enjoy!
==========
First off this week is a question from one of our most frequent emailers, Cory.
"HEY ALSO ON THE INFERNO VE DO I HAVE TO WORRY ABOUT ANY OTHER PPL WHEN I
GO TO THE TRACK LIK ANY PROBLEMS WITH CRYSTALS OR THAT OR WILL I B ABLE TO
PLUG N GO EVERY TIME"
Cory, I dig your writing style. It says "I KNOW MY CAPS LOCK IS ON AND I DON'T FREAK'N CARE!". But to your question- the stock transmitter that comes with the Kyosho Inferno VE is the Kyosho Perfex KT6 system, which transmits on 27 MHz, the exact same band that nearly every RTR is on. So yes, if you hit a track, or anywhere that a lot of rc'ers are at, you will run into problems being on the same frequency as someone else. When in that situation, do NOT turn your transmitter on until you have asked Every other person there what channel they are on. If there is no one else on your frequency, you are good to turn on your transmitter when you want to, otherwise, you'll need to either stay turned off when the other person is running, or you'll want to insert different crystals into your transmitter and receiver so you will not conflict. 27 MHz crystals aren't real expensive, but there is a better option for slightly more money, going to a 2.4 GHz radio system. BigSquidRC just tested the Tactic RC 2.4 GHz radio. The Tactic will never conflict with another radio because of the way it operates, so you'll never have to worry about a channel conflict. You can find the entire BigSquidRC review HERE, and the radio and receiver sell for right around 80 bucks.
==========
"Cubby,
I just got my first rc truck an HPI Blitz. What is the best battery for my truck a Lipo or Ni-mh?
Thanks,
Andy"
Andy, fantastic first truck to start this hobby off with. The HPI Blitz is a durable and fun truck to drive. But which battery is best for you? Opinions vary. You could ask 10 different people in this hobby, and you'll get ten different answers. My answer to you is to go with a Ni-mh. Why? Because modern Ni-mh cells yield good run times, great voltage output, and most importantly for a beginner like yourself, they are somewhat safer than a normal chemistry Li-po. Being a beginner, chances are you might make a mistake or two while learning the ropes, and if you make a mistake while using Ni-mh cells, you might very well ruin the battery pack, but cause no other damage. Certainly, when Li-po's are charged and discharged properly they are also very reliable and safe packs, but under certain unfavorable conditions, a "normal" chemistry Li-po may go into a "thermal runaway". To boil it down, it might emit a flame and reach a very high temperature. Ni-mh's can also reach high temps when mistreated, but they are much harder to get any type of flame out of. There are some new safer chemistry Lipo cells now on the market that utilize a LiFe cathode, but they are slightly less voltage than a normal Lipo. The lower voltage and extra safety might be perfect for you, check out www.MaxAmps.com for more info on LiFe, normal Lipo, and Ni-mh cells.
That's it for this weeks edition of "Ask Cubby". Email questions to cubby at BigSquidRC dot com, and see you again next Thursday.
Your Cub Reporter