ASK Cubby, 02.06.2014, Version- Your Honest Questions, My Ridiculousness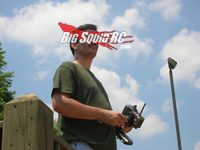 "ESC Upgrade

Hey Guys,
Do you think i might face any technical issues in case i replace the ESC of my TT countryman BLC- 80C with the BLC-150C which is being used on the MT4 G3? i'm looking for more power but im afraid to face some problems with the differential system or gearing…etc…
Thanks
OD"
Cubby- Yo congrats OD, I have selected yours as "Letter of the Month" which entitles you to a free BigSquidRC t-shirt. Hit the "contact us" link to shoot Brian your snail mail and shirt size.
Ok, so you might be replacing the stock 80 amp esc in your Thunder Tiger Mini Cooper Countryman with a 150 amp model. So…. what are the implications? Absolutely none if you keep the gearing and cell count the same. After the switch your car should have the same speed and power.
Now lets say you go ahead and kick up your cell count to 5 or 6S on the bigger speedo. Then will your rally car run into reliability problems? Hey, every car running on 6S runs into problems sooner or later, so expect to break some parts. But… all that insane 6S power will at least have you wrenching with a huge smile on your face.
---
"Just out of curiosity why yall cover this guy's eyes up every picture?

Michael V."
Cubby- Ya know, I've actually thought for nearly a whole minute on how to answer this question. I could say it's because I dug out both of my eyes with a hot soldering iron from reading dumb letters. I could say it's because I'm actually an alien and my eyes have a deep, dark, green phosphate like glow that I'm trying to hide from the government. I could say I only do it to tick off Joe-Blow consumers that have never met me in person.
But then, I could just break down and be honest (which is pretty rare), so… here's the dealio. In the early days of THE Cub Report many of the things I would say were against my employer in the rc industry. Instead of getting fired and losing some rather fat paychecks, I wore a motocross helmet in the CR picture. Later, when I was working more outside the rc industry, I had no reason to continue using the helmet pic so we shot a "normal" pic, but decided to put a BSRC watermark over my eyes to still leave a bit of mystery.
So there ya go, pretty simple really. 🙂
---
That is it for this week ya punks, my email is Cubby at BigSquidRC.com, feel free to shoot me whatever you want, at some point it just might get read. Every letter you write that hits the bigtime gets you a free sticker pack, if I pick yours as "Letter of the Month" we'll totally hook you up with a sweet BSRC t-shirt.
YOUR Cub Reporter