ASK Cubby, 02.20.2014, Version- You Still Write, I Still Like Dom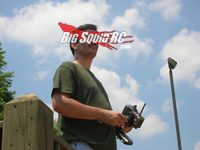 "Please help with pro line body thumbwashers install

Hi guys, please help me. i was wondering what exact size drill bit do i use to install a Pro-Line Body Mount Thumbwasher Kit that i read about

Thanks,

Wolfy"
Cubby- Hey Wolfy. Obviously you are a man of good taste and judgment, choosing to ditch those PITA body clips in favor of vastly superior Pro-Line Thumbwashers. Actually, they are called Secure-Loc Caps now days, which is a much tricker name than what we gave them.
So you want to know precisely what size drill bit to use for drilling the holes when installing a Pro-Line Secure-Loc Cap Kit. To be honest with you, I normally just "eyeball" it and have never been off, not to brag, but yes, I am just that good. But… seeing as how I am so dedicated to our readers (LOL), I actually removed one of the cap screws on my personal PRO-2 SCT to get a solid answer for you. After spending nearly 2 minutes working my rear off to get a measurement, I am going to say a 1/8″ bit is the weapon of choice. Btw, a normal metal bit is fine as long as it has a sharp tip.
---
"I would like your expertise and have a question for you

I am currently in the market for a gas rc car. I want to take it off-roading and just have a fun time with it (no competitions or anything like that).

Do you have any recommendations if I wish to stay in a budget of about $1000-$1200. What are your thoughts about the HPI baja 5B SS kit? I was thinking of getting that or the Losi LST XXL 2 (which hasn't come out yet). Perhaps you think it's worth the wait?

I work crazy night hours and lately I have been bored out of my mind sitting at home and doing nothing. I was thinking it would be time consuming and interesting to get a kit. Do you think a person needs a lot of experience in putting it together? I have never put one together but feel confident in my abilities.

By the way, your website, bigsquidrc.com, comes highly recommended! I think it's amazing. So much info and very interesting to see regular updates.

Johnathan G"
Cubby- Yo to the yo Johnathan, thanks for taking the time to write in.
What are my thoughts on the HPI Baja 5B SS kit? Well, we did a review on the initial RTR version which prompted me to cut the check and buy a 5B SS kit. The SS is a solid buggy, it drives well, has decent power, and if you don't get too insane, is relatively reliable. The engine it comes with typically starts right up and is generally a joy to use. Yes, I consider the SS to be worth the cash, it is a lot of fun with minimal engine hassles.
Do I think you can build it? Hey, I don't know you, but the SS comes with a decent manual and everything goes together without issue. Building an rc car/truck kit is really about one thing- how well you can read a manual. If you are the type that throws the manual away first thing, it will be a pain to build. If you go strictly by the manual, and are good at paying attention to the details, it will be easy for you.
But… the 5B isn't without downsides, noise is the first one. I have no idea where you live, but the 5B sounds roughly like a chainsaw when driven, which might very well get on the nerves of your neighbors. And… the 5B is no small vehicle. If you don't have much extra room in your garage, you will find it takes up a decent chunk of space to store. Lastly… the 5B is no joke, it can throw a serious roost, meaning it can be a grass killer. That might not be an issue for some, but for others, tearing up the grass at your local park isn't cool and can get you in some hot water.
About the Losi XXL-2 gas powered monster truck… no, we haven't received one for review yet, so your guess is as good as mine on whether it is so good that it completely changes the industry, or if it misses the mark.
---
Hey, got a question? Got something on your mind? Don't be shy, the worst I can do is publicly shame you. Submit your letters to Cubby at BigSquidRC.com. If your letter hits the front page we will totally hook you up with a BigSquidRC sticker pack, and if I proclaim it to be the "Letter of the Month" we'll even send you a t-shirt.
YOUR Cub Reporter