ASK Cubby, 04.03.2014, Version- Reasonable Questions, Questionable Reasoning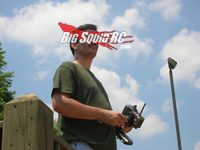 "Have you guys done a review or shoot out with the SC10.2 Factory team and Losi SC22?
Ryan W."
Cubby- Yo to the yo yo Ryan, thanks for taking the time to write in. Shoot Brian your snail mail so he can hook ya up with a brand spank'n new BSRC t-shirt. Yes, yours is the letter of the month.
No, we haven't reviewed the AE SC10.2 FT or the TLR/Losi 22SCT (although we did review the original SC10 Here). Although their parent company Thunder Tiger is cool with us, Associated hates us with a passion, so you can count on us never, ever, reviewing another AE vehicle unless we go out and buy one, and I seriously don't see that happening. However… I have driven multiple SC10s and was never a fan. Their rear end tends to be loose, and they seem to be far too sensitive to tiny track changes. Oh ya, I am not a fan of their box stock set-up either.
As far as the 22SCT goes, I've also driven a number of them. Generally I was a fan, they carried speed really well in corners, and I really liked how far sideways I could land with them off of jumps. If you are thinking of pulling the trigger on one go ahead and bust that wallet out.
---
"Does anyone at BigSquid RC answer their emails?
I am looking to purchase for the Corvette GT2 body made by killerbody for my Traxxas XO-1. I am having trouble finding a seller. I'd also like to purchase the entire light kit as well. Do you have a source or a link you could point me too?
James G."
Cubby- No, nobody ever answers emails here. LOL. One of my minions ran across yours, and I have no idea why they went ahead and forwarded it to me. So here, let me make up some sort of an answer.
Actually, we talk with the Killer Body RC quite frequently and they've got a bunch of new stuff getting ready to hit the market. However, what we do not do is manage their inventory. What little I do know about their distribution is that quite a few HobbyTown USA locations carry their products, so you might start by calling the one closest to you to see if they have what you are looking for in stock.
If that doesn't work I would contact them directly. You can get their contact info at This Link.
---
That's it for this week, shoot me your questions, opinions, and lightly used Tag watches to Cubby at BigSquidRC.com. In the very unlikely event that I actually answer your question you will get a free sticker pack, and if yours is proclaimed "Letter of the Month" you score a free t-shirt.
YOUR Cub Reporter