ASK Cubby, 04.10.2014, Version- Another Week of Questions, Another Week of Questionable Answers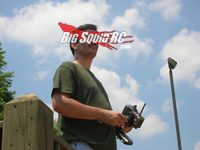 "Advice for RC
I found your website while looking for a rc for my kids and I to play with. A few years ago when my youngest was 5 I bought a mini mauler. The thing was awesome. It was fast, would drive over any terrain in the house or yard. It seems that is no longer made and I am looking for something similar. Not too fast so a kid could learn it but not so weak that it can't make it through thick carpet.
Any advice? There aren't a lot of hobby shops nearby….
Dkrad"
Cubby- Yo to the yo Dkrad, shoot Brian an email at the "contact us" link so he can send you a free BSRC sticker pack.
Oh my, the old Horizon/HobbyZone Mini Mauler. I never had one, but they did look like fun.
So ya, I have a couple of recommendations for you. The first being one of the Dromida vehicles that are available from Tower Hobbies. I mention Tower because you said you don't have an LHS close, and I mention Dromida because they are still fairly small in size like your Mauler, they can take a decent hit, and they won't break your wallet (street priced at $99). The come in three different versions, a monster truck, an SCT, and a buggy, and while they aren't crazy fast, they have a lot more rip than your old Mauler. Oh and, they can definitely get around well on carpet.
If you want to go a bit larger to do some outdoor bashing, I am going to recommend a brushed ARRMA Granite or an ECX 2wd Brushed Ruckus. The Granite has a street price of just over $200, while the Ruckus comes in at around $170. Both can easily get around in your backyard, both can take some hits, and you and your kids will have blast with them.
---
"Jato
I'm trying to buy some bandito 2.8 st for my jato I'm looking for advise with the offset front rear. Thank you guys for everything you do!
Tucker M."
Cubby- Heyyyy nowwww Tucker, thanks for the email. You too can hit up Brian for some stickers.
So… you have a Traxxas Jato and want to mount up some Duratrax Bandito ST 2.8 wheels/tires on it. I've got some time in on a set of them, and they work fairly well on-road. The Jato uses the same offset front wheels as the front Nitro Stampede and front Nitro Rustler. On the rear the offset is the same as a bunch of different trucks like the F & R of the Pede 4×4, the rear of the Nitro Pede & Nitro Rustler, and the front of the electric 2wd Pede & Rustler. So as this applies to the Duratrax Bandito ST pre-mounts, for the rear of your Jato you will want "rear wheels with 1/2 inch offset", like part number #DTXC3544 (for black wheels). For the front of your truck you'll want something like part number #DTXC3540 for the black front pre-mounts.
Oh and hey, shoot us some pics of that bad boy when you get them mounted up.
---
That's it for this week ya lunatics, shoot your emails to me at Cubby at BigSquidRC.com. If your letter hits the big time you'll get a free sticker pack, if I proclaim yours as "Letter of the Month" you'll get a free Big Squid t-shirt.
YOUR Cub Reporter