ASK Cubby, 05.01.2014, Version- You Dare to Write, I Dare to Ramble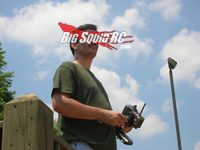 "One Request

Guys,

Can you randomly pick my name for the Losi 5ive T?

BTW, as a retail store owner, I liked the format of the contest. Making people look at videos and reviews, liking Losi on Faceypage, etc. is a great idea. I read so many reviews and watched so many videos…

If I ever do a give away, I hope you don't mind that I blatantly steal your format.

Keep it up. I think you guys have the best RC rumor/porn site. The look of the site and newbie navigation is super easy.

Thank you,
Ronald D."
Cubby- Congrats Ronald you've won! No, you haven't won the Losi 5ive-T, but yours has been named "letter of the month" so we'll totally hook ya up with a sweet BSRC t-shirt. Maybe not a great consolation prize, but we've got plenty more kick ass contests coming up soon.
Thanks for the props, we seem to get a lot of that now days, which is a good thing, we certainly put a lot of work into the site/reviews/columns, etc.
And no, the contest "format" for the 5IVE-T isn't ours to steal, it's been used on numerous websites before. And ya I agree, it is a great way to get readers to check out your social media and various parts of your website.
As far as being a rumor site… I hear the second "big" nano sized quad is about to be announced, a pretty trick scale MT is just a couple months from being announced, and that a certain "big" name has a super sized crawler ready to drop. But of course, don't say you heard any of those rumors here… 🙂
---
"Review

I was wondering if you guys plan on reviewing the Ofna Hyper SSe? It looks like an interesting buggy, but I can't find a decent review anywhere on the web. Thanks.

Bill"
Cubby- Yo hey ya Bill, shoot Brian your info so he can shoot you a rather uber sticker pack.
Ofna had some awesome glory years with their low-end buggies during the nitro years, since then, well, you don't hear too much about them. They do seem to be making a push lately, and with the Hobbico distribution, they seem to be making a small come back. Too bad they don't do much marketing, people can't buy your gear if they don't know it even exists.
We posted about the SSe a couple of months ago, it's an affordable brushless 8th scale buggy, that if it can take a beating, would make a good bash machine. The people from Ofna don't really "talk to us", but we might be able to swing one for a full review from some of the other powers that be. We'll see…
---
Hey, that's all I have for ya this week. Got questions? Sure ya do, email me, Cubby at BigSquidRC.com is the addy ya want. If you are like Ronald and Bill and your letter hits the big time, you'll get a free sticker pack, or maybe even a t-shirt.
YOUR Cub Reporter