ASK Cubby, 05.15.2014, Version- You Make Up Questions, I Make Up Answers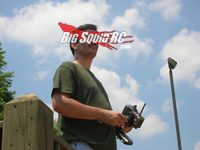 "Hello Guys, okay?
I am a lover of your site, mostly I read your review. One suggestion: How about doing a review of the Airtronics radio m12? I'm from Brazil
thank you,
V. Hugo"
Cubby- Hey now Hugo, thanks for the mad love and be sure to hit up Brian for a free sticker pack. You can plaster your car/truck/buggy with BSRC stickers and then shoot us some pics so we can see what Brazil basher style looks like.
Why no Airtronics reviews? This one is pretty easy, they don't/won't talk to us. Maybe they hate us, I have no idea, but I do know that after multiple attempts to talk to them, they have never replied. So while you might like to see an Airtronics review, and while we might like to actually see how their products stack up now days, it just isn't gonna happen. I must also add, if a company won't even talk to one of your favorite rc websites, you might want to take your cash and spend it elsewhere, but that is just me.
---
"Hey BSRC, just wanted to let you guys know that I really appreciated your (long ago) SCTE review. You bashed the living hell out of it, drove it off roofs and such, and you even put an insane motor/ESC combo because why not? So I figured that since the roller was $192, i should probably buy it. It's the SCTE 1.0, but for what it is, it's great.

So here I am, writing to you from the pile of parts that is the vehicles that were in front of me. WERE.

-Zach P."
Cubby- Hey nowwwww Zach P, thanks for email, and thanks for reading the site.
The Losi SCTE 1.0 still lives on in RTR version here in the states. It was a rock solid and affordable platform then, and still is. The 2.0 has a host of improvements, but for bashing, the original version can still take a beating and keep on ticking. We still have 3 of them around the office that are called into service from time to time for some bashing action.
About your last sentence… sounds like you are either doing some serious wrenching, or you went bashing with Craig "The Uber Ramp Builder", either way, have fun transforming all those parts back into rc cars/trucks.
---
That's it for this weeks ASK Cubby. Read your letter here by shooting me an email, Cubby at BigSquidRC.com. Letters that hit the big time win you a free sticker pack, our "Letter of the Month" wins a free BSRC t-shirt. Catch ya next week freaks.
YOUR Cub Reporter