ASK Cubby, 06.05.2014, Version- Important Questions, Whimsical Answers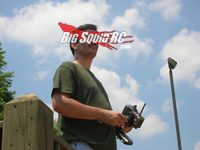 "Hey Cubby

There's alot of good cars around now, I'm trying to pick something for big air on hard surfaces, have a few good skateparks & a BMX track near by. I can't decide between a 1/8 MT4 or Savage, or a Firestorm, Rustler or Granite something that's lighter & cheaper so can launch it with blatant disregard!

I've had alot of cars but am going in circle on this, what would you go for with these kamakaze jumps in mind?

Keep on pushing the limits! Love it!

Thanks,

Alan K."
Cubby- Yo hey Alan, big props for the love. Congrats, I proclaim yours as the "Letter of the Month", shoot us your snail mail so we can hook ya up with a t-shirt and sticker pack.
Ok, so you are looking to do some high flying skate park action and want to know what to buy. First off, in case you've never done much skate park bashing, those places are hell on rc trucks. Seriously, IMO they are harder on parts than any other venue, so expect to break loads of parts, regardless of how "tough" the truck is.
With that said… this is what you want in a skate park truck-
1. A truck that already has parts on the pegs at your LHS. This is just common sense.
2. Big tires. Big tires will help you three ways at a skate park. First- they help absorb hard landings. Second- they help give your truck a bit more ground clearance when casing jumps or even when flat landing. And lastly- they have a lot of rotating mass, making it easier to pull back and front flips.
3. A truck with a metal chassis. You can always un-taco a metal chassis, a plastic unit will simply snap (and changing out any type of chassis takes forever).
Of the trucks listed in your email neither the Firestorm nor Rustler have a metal chassis. The MT4 and Savage are both good choices and are easy to go huge with because of their big power and 4wd. The 2wd Granite saves some cash up front, which might be something to think about considering how many parts you'll be buying in the near future.
Peace and love, and be sure to shoot us another email (with pics!) to let us know what you ended up buying.
---
"You are such a moran, in the last Cub Report I can't believe you said that only noobies drive Traxxas. I know lots of people that drive Traxxas and all of them have been in the hobby for more than 5 years.

Charlie B."
Cubby- Yo to the yo Charlie, and thanks for taking the time out of your day to write me 4 separate letters on this one subject (LOL).
I did not say that only noobs drive Traxxas, I said that you'll look like a noob if you do. I say that because 90% of the noobs we run into at bashes/random parking lots/random parts counters are running Traxxas products. It sounds like you and your crew don't mind looking like noobs, this is America so to each their own.
But seriously…. even if we might look like noobs, our bash crew does drive a couple of different TRX products on a regular basis. We are big fans of the Slash 4×4 and the E-Revo so they get a fair amount of mileage when we bash. Drive whatever you want, that's what we do, and remember part of the reason THE Cub Report exists is to simply get people like you riled up.
---
Want your letter on our front page? Want to win some free stuff? Shoot me your emails, Cubby at BigSquidRC.com. If, and I highly doubt it ever will, your email hits the big time you'll win a free sticker pack. And if, and I really super highly doubt it ever will, your letter is named "Letter of the Month" (like Alan's this month), we'll even shoot ya out a free t-shirt.
YOUR Cub Reporter