ASK Cubby- 06.26.2014, Version- Swimming in Letters, Drowning in Answers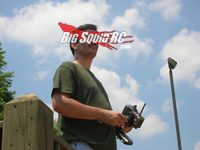 "Pro-Line Pro-2 VS Traxxas Slash Ultimate

Alright I have a Traxxas Slash Ultimate 4×4 and I would like to get a Pro-Line Pro-2 soon. Now, I know that one of them is a 4×4 and one us a 4×2 but I would like to know which one is better for bashing, and what better people to ask than the folks at Big Squid? I have heard nothing but great things about the Pro-2. Your review of the Pro-2 was a big help but I'm wondering if it is better than my slash. Thanks!

CAMERON G."
Cubby- YO! I thought about just leaving your answer at that (we are big fans of the app), but after a few evil eyes from Brian, I guess I must give you more of a reply.
Pretty much any 4wd has a huge advantage over a 2wd in rc, and that is the case here. Yes, the Pro-Line is a great truck, one that we drive daily, and it is our favorite 2wd SCT, but the 4wd on the TRX is a huge advantage.
4wd helps a ton in pretty much every scenario. It is a huge advantage when plowing through grass. SCTs are prone to being hard to control over jumps and 4wd goes a long ways to making them easier to fly. Etc, etc, etc. However…. there are a couple disadvantages to 4wd. They tend to not turn as tightly, so the Pro-2 can cut under the Slash 4×4 in super tight 180s. And… 4wd are much harder on electrical systems.
Should you cut the check for the Pro-2? Heck ya you should, it's as uber of a 2wd SCT as any on the market, but don't expect it to do everything that a 4wd can.
---
"ECX 4WD Front Wire

On the ECX 4WD vehicles that Front Mystery Wire is a Steering Stop. They prevent the steering block from going too far. Since there isn't a C Hub with a stop these are needed. It took me a while to figure this out & it didn't come to me until I was checking the servo travel.

Chris S."
Cubby- Ya, I got "the call" from one of my homies over at Horizon about 5 minutes after our ECX Torment review went live. Using a 35 minute phone call dissertation, he completely filled me on the whys and hows of "the mystery wire". While it isn't the way I would have gone about it, the wire is simple, effect, and adjustable (by bending/changing).
---
Yo, you've made it all the way through another ASK Cubby, hit me with an email at Cubby at BigSquidRC.com. If you make the big time (like Chris and Cameron did this week) you'll get a free sticker pack, or maybe even one of our uber new t-shirts.
YOUR Cub Reporter