ASK Cubby, 08.07.2014, Version- Letters More Fun Than Chardee MacDennis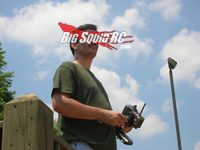 "Family room runner

I'm fairly green when it comes to rc cars and the like and was hoping for a bit of advise on a new rc car. I am wanting something that I can run around inside my family room, plus a bit of outside patio if the desire comes to me. I already have a Losi micro T and was looking for something a bit larger and easier to tinker with. I like the looks of the Losi mini 8ight. It may be too big and fast, but comes well equipped and I may be able to gear down. The other rig I am digging on is the Associated SC18. I like the looks and the size, but am worried about the belt drive issue. I'd like to stay away from stuff that has a two-in-one ESC/receiver like the micro T. Brushless power would be nice for longer run time and power. Local parts support isn't an issue, my local shop is a bit lackluster and I tend to have to order things online. I like to tinker as much as drive, sometimes more. Any advice would be appreciated.

Josh K.
NorCal"
Cubby- Yo congrats Josh K, you've just pulled off a coveted "Letter of the Month". Shoot us your snail mail (and your shirt size) so we can hook you up with one of our spank'n new t-shirts.
As far as your question goes, I just happen to be an expert on what to run in a living room (as well as pretty much every other topic on this planet). Seriously, every winter I invite my homeskillets over and we hold our own RC Supercross before the AMA night program kicks off live on tv. What have I learned????
18th scalers are typically too big and too fast. This results in multiple tire marks up on the wall that the wife does NOT appreciate. I've found the perfect sized vehicle for my RC Supercross room (18 x 20′) to be the Losi Micro SCT. The SCT version is significantly larger than the Micro-T truck, plus it's 4wd which makes for easier adjustments over the big triples we make out of rugs with boxes underneath. Standard oil shocks on the SCT makes passes through the whoop section a blast, instead of a pogo experiment like what you would have with a Micro-T. Also, we've run them (the Micro SCTs) on BL, but that makes them a bit too fast (read- more tire marks on the walls and furniture) so we run ours on brushed motors with LiPo batteries. For my room that is the perfect set-up.
If you really and truly want to go up a size from the Micro SCT, I'd recommend the Dromida line-up of vehicles. They are the same size as the AE 18th scalers and are tough and affordable, two things you want for a Man-Cave machine. The Losi Mini 8IGHT buggy you mention is a kick ass machine as well, but I have driven one in my Supercross room and you don't want to (unless you are good at repairing drywall and/or ceilings).
---
"Review Mini Losi 8ight-T

Good night,

How are you? Please, I need a information.I would like buy a Losi 1/14, but i have a doubt, what`s the better: mini 8ight or mini 8ight T? Are there difference in top speed between this rc cars? Which is your favourite? What is the stronger? Can I change the spur gear of the both cars for reach top speed? thanks!!!

Thanks,
Haroldo O."
Cubby- Ya know Haroldo, out of the thousands of emails I've received over the years, yours is the first one to actually ask me how I am doing. Thanks, and welcome to the big time, shoot us your snail mail so we can get ya a big ole' BSRC sticker pack.
So how am I doing? Not worth a dern really. The rc industry is in a lull, my 550 has a cracked bell housing (read- $$$$$), and Iron Mike just got me back on our ongoing CA glue war (crafty fellow- he put several drops on the outside of the bottle I was using to glue up some tires). But seriously, who am I kidding? I have the best job in the world- destroying and complaining about toy cars. So ya, I am actually doing pretty damn awesome.
Oh ya, you had an rc question…
So… between the Losi Mini 8IGHT buggy and the 8IGHT-T truggy, which one is faster, which one is stronger, and which one do I prefer?
Which one is faster? Both are crazy quick, the top speed is up to you. Want more top end? Simply add a couple teeth to the pinion. Want stupid power? Pop in a 3S LiPo. IMO, both are easily overpowered.
Which one is tougher? Once again, they are pretty close. Both have proven quite durable for us.
Which one do I prefer? Both. The buggy is better for smaller or smoother areas, it is more agile than the Mini 8IGHT-T. The truggy is better for larger and/or rougher areas. However… if I had to pick just one I'd go with the 8IGHT-T because I consider it slightly more versatile. Because of its size, the truggy simply handles better in a bunch of rough areas that I normally drive at (like 8th scale buggy tracks or in bumpy open fields). The fact that a plethora of normal 10th scale buggy tires fit on the truggy is just icing on the cake.
---
So that's it for this week, shoot me your letters, spam, and perfect condition Ferrari bell housings to Cubby at BigSquidRC.com. If your letter/question makes the big time you'll win some stickers, if I proclaim yours as "Letter of the Month" you'll get a free t-shirt.
YOUR Cub Reporter