ASK Cubby, 08.14.2014, Version- Your Letters, My Responses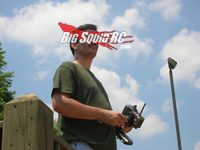 "QUESTION FOR CUBBY
Dear Cubby;
I'm a speed and bash rc truck person – slash and savage, etc. – but I really like the looks of some of the crawlers. And was wondering if anyone has had any luck modifying a crawler for speed and bashing. I realize they have a high center of gravity but I thought the wide stance and large tires might welcome a brushless system and performance oriented shocks. Your thoughts?
Blessings
Damon H.
San Rafael, CA
Ps. This is in fact the first time in my life I have ever had the privilege of consulting someone named "Cubby.""
Cubby- Hey ya Damon from California, thanks for the letter, shoot us your snail mail so we can totally hook you up with a BSRC sticker pack.
So… you want to mod-out a crawler and make it go really, really fast. Hey, I dig that idea. Throwing on some foams, a huge pinion, and a 6S 7700kV power system in an Axial SCX10 just sounds gnarly to me. If you do it, be sure and send us pics/vid because even I can't wait to see one of those doing 60 mph speed passes.
However… I would recommend you simply pick up one of the new Axial Yetis. From getting in a bunch of time driving the Yeti, I have found it is a perfect vehicle for doing some light crawling, while also having the ability to do 40 mph speed runs and hit'n big jumps. It has the uber scale looks that you would expect from an Axial product, and performs like nothing else on the market. Oh and… from speaking to the Axial crew a couple days ago, they expect for them to start hitting consumer hands in about two weeks, get your order in now if you want one.
---
"Looking for a Rally Car
With so many rally cars out there, Which is the best onroad basher and light gravel machine? Looking to keep it scale or have the option for a scaled body. Subaru is a plus.
-Shane H."
Cubby- Yo hey Shane, congrats on making the big time, don't forget we can't hook ya up with stickers unless you send us your snail mail.
To your question… it has been some time since we did our Rally Car Shootout, but it is still quite relevant today. For purely on-road use, I am personally a big fan of the HPI WR8 Flux. Compared to the others in its class, it has loads of power and handles very well on pavement. However, you may not be a big fan of its Ken Block/Ford livery.
For a Subaru fan such as yourself, the Kyosho DRX VE Impreza would also be a good choice. The Kyosho isn't as good on pavement as the HPI, nor does it have as much raw power, but it still drives well on-road, and still has a solid amount of brushless power. Also of note on the Kyosho, its body is absolutely top-notch, and it handles off-road better than pretty much any other dedicated rally car on the market.
Make the decision, cut the check, insert Hugeeee smile on face.
---
That's it for this week ya mongrels, shoot your letters/comments/rants/questions to Cubby at BigSquidRC dot com. If (and I highly doubt it will) your letter hits the big time you'll win a BSRC sticker pack or maybe even one of our new t-shirts!
YOUR Cub Reporter