ASK Cubby, 08.28.2014, Version- Hey Look, More Questions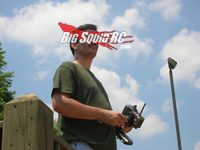 "Hello Bigsquid!!
what would be a good beginner brushless sct?
shadab k (via G+)"
Cubby- Yo to the yo Shadab, thanks for the question over on our BSRC G+ page. Hit the "contact us" link at the top of the page to inquire about getting your free sticker pack.
Hummmmm….. so what would I consider to be the "best" brushless short course truck for a beginner? Certainly there are a lot of good trucks in that product category (I'll be talking 2wd here), but this is how I see them breaking down…
3. ECX Torment Brushless 2WD SCT- Comes in at $289 and is generally easy to drive. While we've never reviewed one, I've gotten more than one opportunity to flog them and have always walked away with a favorable impression.
2. Traxxas 2wd Slash VXL TQi- Price point isn't cheap at $379 but is proven to be a great bash machine with unmatched parts support.
1. Team Durango DESC210 RTR- Street priced around $350 (if you can find them). The best handling of the 2wd BL RTR bunch, the DESC210 is ultra tough when fitted with flexible RTR plastic and comes with an easy to control 13.5 sensored system. Obviously they aren't easy to come by now days, and they really need captured rod ends installed ASAP, otherwise it is the cream of the crop IMO.
One last note here, that top 3 list would be entirely different if you went around the office. Wrench Bill has a different top 3 than mine, as does Adam The Intern, etc. Do as much research as possible and come up with the best truck for you.
---
"The terremoto!
Yes you have not reccomended the terremoto, but since the manager of redcat (darin) posted the truck and made updates (stronger arms to stop bending cvd's and the customer service rocks! its a really good truck! its a hell of a truck, bigger than emaxx, savy flux, mt4 etc
Ari R."
Cubby- Hey ya Ari, shoot us your snail mail for the hook-up on a BSRC sticker kit.
No, we have not recommended the Redcat Terremoto, nor have we even seen one in person (and I highly doubt we ever will). Which is shame, it looks like a vehicle that should be right down the alley of the bulk of our readers.
What I am more concerned about is this- you think since a person from the company making the truck did some upgrades to it, that now you think its a good truck. I think (read- know) I can take any piece of garbage on the market and do a few upgrades and make it a whole lot better.
And… do you think its a good idea to listen to someone from the actual manufacturer? Would it be a good idea for a former Traxxas employee to do Traxxas reviews in one of the dinosaur mags? What if a former Associated employee was doing AE reviews, would you trust them (for better or for the worse)? Just say'n, choose who you listen to wisely…
---
Hey, ASK Cubby is done for the week. Should you want to see your name/letter in the bright lights of the BSRC front page, shoot me an email, Cubby at BigSquidRC.com. If your letter makes the big time you'll win a free sticker pack, or if I name it "Letter of the Month" you'll be entitled to a free BSRC t-shirt.
YOUR Cub Reporter