ASK Cubby, 09.11.2014, Version- Whoa, Dumb It Down There Einstein!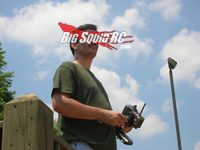 "Summit vs Yeti

Hi there,
I have liked the Summit for a long time because it was good all around, but now that the Yeti was made, I'm liking the Yeti more than the Summit. The two R/C's have about a $150- $200 price difference (I think. I haven't checked the Summit price in a while) but it looks like the Yeti might be better. It is definitely faster. But can it do the same things the summit can, and do it just as good or better?

Long story short I just want to know if the Yeti is just as good or better than the summit. Thanks!

CAM G."
Cubby- Yo hey Cam, you've made the big time, be sure and shoot us an email containing your snail mail so we can get ya the hook-up on one of our sweet sticker packs. For all the rest of the throngs reading this, you can have a sticker pack too, hit the "BSRC Shop" button at the top of the page. Our stickers instantly give you street cred and will show all your buddies that you are indeed a hardcore basher.
Oh ya, you wrote in with a question. One of my favorites, a "which is better", but yours has a twist, you are comparing two very different sized vehicles.
So which is better, the Axial Yeti or the Traxxas Summit?
I have not run both of them back-to-back over the same terrain, so that makes the comparison a bit trickier. However, I have put in a lot of time with both independently. Based on my time with them…
These are two different types of beasts. The Axial is all around quicker, has more top speed, and is much more controllable while at speed. The Yeti can take a hit without breakage, and can be used to blast around a cul-de-sac or for an all day trail drive with your buddies.
The Summit is physically much larger, allowing it to get over large dirt clods or rocks. It has good power on tap as well, but it likes to wheelie and traction roll too much.
To boil it down, IMO the Axial Yeti is the better overall bash machine. While smaller, its speed and handling are simply better suited to general bashing.
---
"Slickrock lipo battery

Hey Buddy. Plse help a newbie. Just parked a Slickrock next to my Losi MRC Pro. I believe the std nmh battery is a big mistake. Our local South African RC shops are not exactly balls of fire hence I can't find a suitable lipo battery for my new S/rock. Want to keep it in the box for now. Can you please tell me what lipo batteries I can look for. Many thanks.

Regards,
Ronnie B."
Cubby- Hey now Ronnie B, thanks for writing in and hope you plaster your Slickrock with the BSRC stickers that you will receive in the mail.
So you are from South Africa? As you probably know many of our staffers are all about Zef style. Sorry to hear your local hobby shops are not "balls of fire", but then the Slickrock uses a small sized pack that isn't available at a lot of hobby shops here in the states either.
We never received a Slickrock for review, so I've had no first hand experience with it. Stock it uses an odd 3+3 2/3A NiMH, which is great for fitting in its cube like battery tray, but not so good when it comes time for finding a replacment. The only pack I can think of that might be a good fit would be a MaxAmps 2S 860mAh. That pack should fit fine without modification and have more than enough current to get your rig around. Otherwise… I would recommend you go to your favorite on-line LiPo retailer and look for a pack with a form factor of roughly 30 x 30 x 50mm.
There is one more option, ditch the stock battery box and slap in a more readily available 2S 1200mAh'ish pack. Most LiPos in that size will fit inside the cage of the Slickrock, but not inside the stock battery box.
Have fun, go fast, and send us pics of the carnage.
---
Hey, that's all I got for this week. Shoot me your selfies, screenshots, questions, rants, and perpetual motion machine plans to Cubby at BigSquidRC. I doubt it will, but if your letter hits the big time you'll get a free BSRC sticker pack, and if I proclaim it as "Letter of the Month" you'll receive a way-super-dope BSRC t-shirt.
YOUR Cub Reporter