ASK Cubby, 10.08.2014, Version- Yup, I'm Making Up All The Answers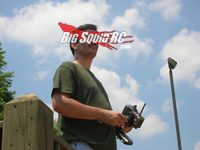 "Would love to know why

Afternoon,
Great to see you guys getting some exclusives on new product. Proline is a great company with amazing support. This however is such a let down. A 2wd monster truck kit for $400!??!!? I don't see how or why anybody would ever buy it ? Would love to hear from you guys why you think this is so great and why you think it will sell. I see this truck being a complete flop.
Jamie"
Cubby Hey now Jamie, and heck yes, we are extremely grateful to get the exclusives that we do. We must have done something right somewhere to have locked down several of the biggest releases of the year.
About the new Pro-Line Pro-MT… our full review goes up on Tuesday. It is hard for me to not reveal too much, but I feel like I have to to answer your question.
Why would anyone ever buy it? It's not for everyone. It's not for noobs, it's not for people who want a complete RTR, and it's not for people on a tight budget. So who is it for? It's for those with some cash who want the best. I am one of those people, and while I rarely actually spend money on rc products, I can't wait to throw cash at my LHS to have this one.
To know why we think it is so great you'll have to wait for Tuesday, but I will say this- our guy "Wrench" Bill is a total basher. He isn't into all the drama and politics of being in the industry, he's a normal everyday guy. He fixes all the stuff we tear up, but doesn't really care what's kick'n on the industry side of things. I rarely, VERY rarely see him get excited about an rc product. We got several of the Pro-MTs to demo at iHobby this year. Bill had never driven one so I handed one over to him. During the first demo he pulled off some crazy sick maneuvers, it handled really well, and even after numerous crazy-hard landings (crashes) to concrete, the Pro-MT was not broken. As Bill walked off the drivers stand he looked up and said "I am taking this thing home and NOBODY is stopping me!". He rarely likes anything we test. For Bill, a normal basher to have become so smitten with a truck, it spoke volumes to me.
Anyways… thanks for the email and keep your eyes pinned on Tues for the full scoop.
---
"I would like to get into the hobby of RC cars

Hi,
I would really appreciate it if you put more competitions on your website, I would love to get into the hobby of RC cars? trucks etc.. But we cant buy one as we are to poor, we have heaps of bill because this one guy went and came back from Sri Lanka twice with our money and bought loads of computers with our money, and we had absolutely no idea. So please can you put more competitions, on your website.

Best regards, Joshua A."
Cubby- Yo hey Josh, thanks for the email.
So… some guy went to Sri Lanka and burned all your cash. I say you should be much more careful with your hard earned rupee.
About us featuring more "competitions" on our website. If you are meaning more race coverage, that is never, ever, going to happen. The IFMAR 8th scale worlds just got over, arguably the most prestigious race in all of rc, and the vast majority of bashers have no idea (or even care) who won.
If you are meaning "competitions" to be contests where we give away cars, HECK YES we have more on the way. In fact we have one going on right now over on our FB group. That's right, you can win a new ARRMA Raider just by posting over on the BSRC FB group, so head over that way, you never know who might win! Check out our Big Squid RC Group Here.
Peace and love my friend…
---
Congrats, you made it all the way to the end. Shoot me your non-sense, Cubby at BigSquidRC dot com is the addy you want. Make the big time and get some free stickers!
YOUR Cub Reporter