ASK Cubby, 10.16.2014, Version- More of Your Questions, Less of My Answers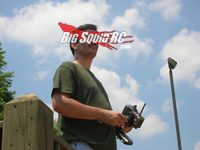 "First car

My name is Jason and I want to get a electric off road vehicle. Not going to race just want something to have a blast with and not have to always be fixing it. What would be your recommendations. I'm new to this and know nothing about brands or what to look for.

Thanks Jason"
Cubby- Congrats on hit'n the big time Jason, shoot us your snail mail so we can get you a BSRC sticker pack.
Wow, you certainly asked a broad question, but it is one that is asked all the time in our hobby. If anything, rc is about a never ending cycle of newbies getting in and other people getting out.
What I would recommend to you would depend a whole lot on price point, but I have no idea if you have $200 in your pocket or two grand. So I'm gonna throw out a couple of safe bets…
On the affordable side of things…
Look at the ECX and ARRMA line-ups. Their entry level 2wd brushed vehicles are good bashers, and excellent "bangs-for-the-buck". These come completely built and ready to go, and while you might break a part here or there while you learn how to drive, doing a little wrenching is an important part of the hobby. Also, these can be used on-road and off, pretty much anywhere you have some space.
On the higher end side of things…
No, I'm not gonna recommend a 6S Traxxas E-Revo/Savage Flux/MT-4 G3. I've seen guys learn on vehicles like that and it was never pretty. I am going to recommend brushless 4wds like the Axial Yeti and the Traxxas Slash 4×4. The Slash has loads of power, is very durable, and it is super easy to find parts. The Yeti has uber scale looks, is also quite durable, and can be trail driven as well as backyard bashed. On 2S both are quick, but not so much that you break a million parts when you smack a curb.
So there are my ideas based on virtually no input, look around, do your research, and shoot us pictures of what turns out to be the first car in your rc garage.
---
The second question of the week is quite long, hit the "Read More" to check it out…
"Basher Approved Update?

Good afternoon. I am getting back in to RC as a hobby with my son, currently we have the new ECX Circuit 4wd that we picked up Sunday since my 2 hour old Losi Mini 8ight T and his Latrax Teton crapped out gear/diff wise.

Anyway I read the review on the Thunder Tiger MT4-GT and I noticed that it was written a few years ago, it stuck out because that is my birthday. Anyway I wanted to see if you guys have a newer candidate that meets the truck/truggie (Still in debate???LOL) above or if there is a successor as I need a toy. I have been looking at the CEN Colossus pretty hard but all of the hobby shops around me say to steer clear. Keep in mind they seem VERY biased to what they sell and each one of the 3 that I have dealt with have hosed me over so far.

1. Hobby shop #1 sold me a Latrax Teton with a melted body, he stated it will pop out when I get it out of the box and it gets in the sun, I knew better but when a kid is crying because he saved up his money and that is the one he wants it is difficult to stop the sale, still bad business, especially at 150 bucks….

2. Hobby shop #2 sold me the Mini Losi 40+ bucks over retail, my fault I know. Impulse purchase as I wanted something to play with too…

3. Hobby shop #3 oversold my wife a couple of batteries that are way too large for the Teton, 4S Lipos??? Hence being down for a blown diff….

Anyway, you can see how my hobby store experiences have been so I was REALLY hoping that you had something to recommend. Keep in mind the last time that I was into RC I was a kid and the Grasshopper and Hornet were considered new….

FYI, I own the lot next to me and it has a pile of sand on it and I will be adding another load in the near future, I also have a huge yard obviously and we are at the end of a cul-de-sac street so a normal run is blasting around the cul-de-sac, then zip for the pile of sand (more like a 2′ spread out mound), bound across it, do some hops, doughnuts, and then zip through the backyard (grass), and then back for the return trip.

I have asked many times about nitro or electric and everyone says to go electric, I'm beginning to wonder if it is to keep selling me batteries….

Also if you have a brushless swap recommendation for his ECX Circuit 4wd that would be awesome! I would like it to be a little bit faster, but I don't want to have to rebuild a ton of stuff to pull it off.

Anyway I hope this email supplies you with enough information even though it is all over the place. And I really appreciate any help and advice!

Thank you,

Robert D."
Cubby- Yo hey Bobby D, there is a lot to digest in your email but it is freak'n cool that someone would take that much time to write into our humble little website (LOL).
Maybe I'll start from the bottom and work my way to the top.
Brushless recommendation for the ECX 4wd Circuit. This one is easy, check out This Link on a hop-up series we did on the ECX. We used a Castle Brushless System which is pretty much the best you can buy for bashing applications. Yes, we managed to wreak havoc on the drive line when we put in a large CC motor, but on a 1410 on 2S the ECX handles it well, and is a lot faster than stock.
Electric or nitro? 90% of the BSRC Bash Crew only drives electric. However, we have a couple of people who are just wired for the sound and smell of a real engine. Nitro vs electric is really something you need to find out for yourself, so try to pick up a base nitro car to see if it suits you or not. Otherwise, trust me, most people enjoy the convenience of electric over the constant tuning of nitro.
Props for having such a sweet bashing area right next to your house. Be sure to get some of your friends addicted, bashing is always more fun in a group.
About the Thunder Tiger MT4 G3, yes, it is disco'ed at the moment. In the past it has been known to reappear with some slight upgrades, but I have personally inquired with the folks at TT and have received no response. Will it be coming back? Your guess is as good as mine.
What are some good alternatives? I've got two for ya, the Axial Yeti XL and the ARRMA Kraton. I've got a lot of trigger time in with the XL and it is a beast on 4S, and even more so on 6. The same can be said for the Kraton, it has more power than anyone living outside the loony bin could ever use. Both are another world of speed/power than you are used to and should really tear up that sand pile of yours.
---
It's done, it's over, you have suffered through another ASK Cubby. Don't be shy, put your letter into the never ending pile that is my email box, Cubby at BigSquidRC dot com. Get your letter on our front page and get something free.
YOUR Cub Reporter