ASK Cubby, 10.23.2014, Version- Never Ending Questions, Needlessly Frivolous Answers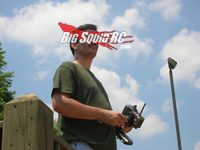 "Proline Pro-MT

Hey there Big Squid crew,

I just wanted to thank you for the review on the Pro-MT. I've never owned a 2WD RC and had been eying the Proline Pro 2 SCB but, I pre ordered one of these babies. I wanted something low maintenance to have fun with perhaps take to the local track. I know a monster truck isn't going to be the best track vehicle but it will be good as long as I'm smiling away as I drive over those pesky short course trucks then it will be a winner. Oh did I say over? I meant around… Yeah around. I was just curious if you guys had run it at all with a Spektrum using the AVC tech I would love to know how it helped/hindered the truck. As far as the other electronics go basically the same set up you guys were running Savox 1270tg, 3800kv castle motor, going to use a Sidewinder 3 waterproof addition.

Thanks again for the great website,
Sam"
Cubby- Welcome to the big time Sam, don't forget to shoot us your snail mail for the hook up on a BSRC sticker pack.
Have we run AVC in the Pro-Line PRO-MT yet? No, but we are doing a whole series on AVC and the PRO-MT will be the first truck it gets installed in. However, we have a bunch of time in with AVC in other vehicles, if you do a lot of loose surface driving you should be able to tweak the AVC to make the PRO-MT incredibly dialed.
As far as the PRO-MT on track. Nope, it's not as dialed as lower, race style vehicles, but it seriously surprises you how well it handles. For example, we have put in a ton of laps with the PRO-MT on local outdoor 8th scale tracks, and last weekend we got in a bunch of time at the Leisure Hours damp/high-bite indoor track. Even with the stock Trenchers the PRO-MT was freak'n hauling. It easily made all the jumps and was incredibly easy to drive fast. I can't wait to try one out with dedicated race tires, and it would really be something if the PRO-MT put some of the fun back into local racing.
---
Hit the "Read More" button to read two more questions. One involves the Durango DEX408v2 buggy and the other asks why we haven't done a big monster truck shootout…
"The new arrma kraton

I just finished reading the arrma kraton first look on your webpage I like your reviews and read them before making purchases. I got a suggestion I guess you can say I would like to see a kraton vs e revo shootout. Or maybe a 1/8 scale 4×4 monster truck shootout with the kraton, e revo and any other mt that you guys think is in this category.

Alberto N."
Cubby- Thanks for the email Alberto. Yes, right now is a real exciting time in the basher world. Why? There have been a ton of really cool releases this year aimed at the basher crowd. The ARRMA Kraton was one of them, the Axial Yeti and Yeti XL were others, then there was the Pro-Line PRO-MT that is just ridiculously good. Right now is a great time to be a basher.
I've mentioned this before, but IMO a big Monster Truck shootout is the holy grail of shootouts for BigSquidRC, but we've never managed to pull one off. Heck, we've been having a heck of a hard time pulling off any shootout, we are just that slammed with the day-to-day operation of the site.
So… heck ya, we definitely need to bust out the big MT shootout. Kraton vs Savage Flux vs E-Revo vs hopefully some sort of Thunder Tiger.
---
"Durango DEX408v2

I was wondering what gears u guys used in your testing?

Thanks,

Denny B.
Member of R/C Freaks of greater St Louis"
Cubby- Hey ya Denny, thanks for the email. I hope everyone with the STL RC Freaks are doing well, I really need to get out and bash with you guys sometime soon.
About the gearing we used during our Durango DEX408v2 review. The spur was stock and we used a Castle Creations 18 tooth pinion. Combined with the Castle 2650kV motor and a good 4S pack, you are looking at some truly burly power. Ya, the "racer crowd" would just shake their heads saying "Wayyyyy too much power!", but it felt about right to us. Tons of yank plus the ability to pop wheelies and pull backflips.
---
Hey that's it for this week, shoot me your letters/questions/comments/meltdowns to Cubby at BigSquidRC dot com. Make the big time get a free sticker pack, win letter of the month and we hook you up with one of our uber t-shirts.
YOUR Cub Reporter