ASK Cubby, 10.30.2014, Version- Ask More Questions, Get Less Answers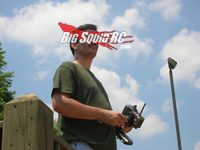 "RC for 4yr old

Dear Cubby,

Ok, so I've had about a dozen or so R/C cars over the years dating back to 1985 (Tyco Turbo Hopper/Tamiya Lunchbox/RC10GT/OFNA 1/8 Buggy, etc). My latests is and Emaxx from 2008 that gets occasional use (considering brushless/lipo upgrade).

My son will be turning 4 in November and he as well as I am interested in getting him into RC. I tried using training mode on the Emaxx (7cells), and it's definitely too fast for him. Ideally I'd like something that he could use both indoor/outdoor (indoor keeps him out of my wife's hair for a bit). For indoors, I'd like something slow so he's not damaging the walls/furniture or hurting his younger siblings. For outdoors, some more speed is ok. I'm close to settling on a Losi 1/24 Trail Trekker due to its crawling/climbing capability and slow speed.

Thoughts? Could I get a 2WD Slash, gear it down, and maybe even run a 4 or 5 cell battery to slow it down for indoor use, or is it still going to be too big/too fast? Do you think the 1/24 Trekker will hold him off until he's about 6 and then get him a something along the lines of a Slash? I take it the Dromida 1/18's are too fast for indoor? Would you have any concern for parts availbility if I picked up a Trail Trekker (looks like it was released several years ago).

Thanks,
Dennis K."
Cubby- Yo hey Dennis, thanks for writing in.
I have seen some 4 year olds that can really wheel an rc, but they were the exception. I know from being to so many different bashes and being around so many young kids (including 3 of my own) that most 4 year olds just aren't ready for hobby grade rc. Ya, I know you are a stoked Dad who wants to hook your child up, but at 4 they are more interested in being chased or simply pushing the truck around than driving it.
However… if I were to recommend something, it wouldn't be the Slash. The Dromidas are fairly slow and can be driven straight into walls without much breakage (plus they can work indoors or out). The Losi 1/24th crawler might good because it is geared so low, but then it might be so slow that it won't hold the short attention span of a 4 year old.
If anything, I can say from first hand experience, that if you hold off for a couple years your child will be much more capable of appreciating a hobby grade rc vehicle. Good luck, and let us know what you get.
---
Hey guys,
Cory from Florida here. I love keeping up with BSRC. The cub report and everybody's scalin for the weekend are my favorites but I also really find the shootouts super helpful. I recently used your quad shootout to help pick my sons Ares Ethos…..and it was spot on!!!

Anyways, I had a thought. I have never seen a servo Shootout! ! What would be better than pitting the uber high dollar boys (savox, hitec, futaba) against the budget ones ( tower, solar, ect…) Having two classes would keep it more apples to apples….like ones for a SC truck/offroad racing and ones for crawlers/scalers. Areas like strength, speed, weight, durability and of course price are all really important us.
Thanks for keepin it real,
Cory
Cubby- Hi there Cory, thanks for the email. We are always glad to hear when people are digging the articles and shootouts. We get stoked when we hear someone made a purchase based on something we said, and they are completely happy about it! It reassures us that we are doing something right around here!
A servo shootout huh? As you may or may not of guessed, this topic has been the subject of many discussions around here, and it's been on the table as something we have wanted to do for a while. Like all of our shootouts, we want to make sure we have the correct tests, equipment, and knowledge to be able to bring accurate results in a format that will benefit the readers. So I can say we have a plan, and there will be one in the future, I can not give you a estimate on when to expect it. Right now we have a pretty good backlog of stuff on the burners, but rest assured it's not that far down the list.
---
That's it for this week ya bunch of lunatics. Got something to say? Got a question to ask? Hit me up at Cubby at BigSquidRC dot com. If (and I highly doubt it will) your letter hits the big time you'll get a free sticker pack, if I name yours as "Letter of the Month" we'll send ya a free BSRC t-shirt.
YOUR Cub Reporter