ASK Cubby, 11.06.2014, Version- Drowning in a Sea of Email…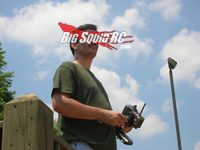 "Help me be an awesome wife!
Hey guys,
My husband and our 7 year old daughter like to run and tinker with RC vehicles. I want to surprise my husband with some cool RC stuff, like I have in the past. I've bought him tires, motors, and other parts before, but this time I would like to surprise him with some fan gear. I remember that he has a Big Squid sticker, and how excited he was to get it!

We have some built in cabinets in the garage and I would love to be able to put a hanging banner or sign of BSRC up. I didn't see one for sale, so that's why I'm writing to you guys.

I am a disabled veteran and I get some pretty cool gear from the Wounded Warrior Project for being an Alumni. Do you have any gear that's not for sale but can be attained through a membership or something like that? I promise I'm not looking for free stuff, I just want to show my hubby some appreciation.

If this is a crazy idea, or otherwise not attainable, please let me know, so I can try to get him something else…

Thank you for your time and assistance!

Sincerely,

Dora R."
Cubby- Yo hey Dora, sounds like you are a pretty dialed rc wife just the way you are.
Oh, did I mention yours is "Letter of the Month"? Yup, shoot us your snail mail and shirt size so we can give you the hook up. Also, I'll make sure Brian gives you the hook up on a banner for your husband's man-cave or garage. Heck, you never know what else we might put in the box… 🙂
Thanks for reading, go fast, turn left, explode tires.
---
"norcal

Hey there fellas,

I was wondering A) if you ever make your way to norcal? B) if you would some day like to come and do some backyard racing.

Its a loam track and the outsides are the fastest way around, none of the square pants national inside line BS.

Anyway love to have you guys if you do, i'll loam it up and we can use the throttle like its a light switch.

This is a video of the AKA and Novak boys.

Thanks,
Mark W."
Cubby- Well hey there to you too Marky Mark. Shoot us your snail mail for a free sticker pack.
So… do we ever make it to Norcal? Yes, but not often. We spend most of our time out west in Socal, the land of In-N-Out Burger, Randy's Donuts, and a whole bunch of the rc manufacturers. In fact, we just got back from a Socal run last week, one of the few we've been able to do without everyone and their dog knowing about.
And B… heck ya we will take you up on your offer, we are always up for a good bash session, especially on a deeply tilled off-road track.
Btw, cool video of you and your funky bunch. Good for you for having a REAL off-road track. Loam not only separates the men from the boys, it is simply more fun to drive on. If it was up to me, I would take a 4 bottom plow to every track in the nation.
---
That's it for this week ya lunatics. You can email me your insanity, Cubby at BigSquidRC.com. If your letter hits the big time you'll get a free sticker pack, if yours is named "Letter of the Month" you'll get a free BSRC t-shirt.
YOUR Cub Reporter