ASK Cubby, 11.12.2014, Version- You Really Should Have Known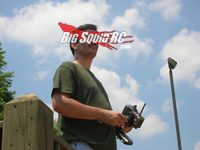 "Advice On 1/18 Scale RC Models
Thank you for your posts/reviews on all of your RC equipment.
I'm thinking of getting into the hobby and am looking at some 1/18 scale vehicles to start with:
-Latrax Rally
-ECX 1/18 Torment
Reviews on your site show both RC's at a B- which should be fair for the price. However, I wanted to know which you think has the better value for the equipment you get RTR out of the box.
Thanks again,
Colton V."
Cubby- Oh yes Colton, you must know I'm such a sucker for a good "Which is better" email, especially one that involves Traxxas.
There are some really great Traxxas products on the market. I'm a big fan of the Mini Revo, big fan of the "big" E-Revo, and even though it does have its issues, I'm a big fan of the Slash as well. However, I am not a fan of the LaTrax minis from Traxxas. I don't know the story behind them, but whatever it might be, they certainly aren't the best work from the Texas Titans. The wretched one I drove oversteered like a JD combine and broke when I just thought about hitting a curb. Before one pack was over I wanted to burn its busted remains with fire to ensure it could never again anger another hobbyist.
I am however a big fan of the ECX 1/18th Ruckus (we never got to review the 1/18 Torment). It handles well, is big enough to be driven outdoors, yet it is small enough to be fun in tight spaces. It does have some downsides, but at $99 its a great value for general bashing.
---
"From FB-

Stupid nub question. Can the Associated ProRally use the DuraTrax Onyx LiPo 3S 11.1V 5000maH battery in stock configuration. I am new to the RC world and don't want to have thermal melt down on a battery that's to big for the RC. I bought the Duratrax Battery because it was in the suggested accessories page.

Luke Pee-rat"
Cubby- Ya know how I knew your letter was gonna be good? When you misspelled "noob" or "newb" with the word "nub". Most times I would just roll my eyes and pour another glass of Dom while quickly hitting delete on your question, but after having spent so much time with Iron Mike recently (who I am sure would spell noob as "glewb", or "knewgle", or worse), I've learned to appreciate pretty much every type of person in the world.
Anywhos…
Will your Associated ProRally turn into a critical fission reactor if you should use a 3S 5000mAh LiPO in it? Yes, probably so, and seeing as how I'm pretty tired of the way the world is right now, I say fire that sucker up.
Ok… but seriously. If your ProRally is bone stock it comes with an Associated 3500kV BL motor and a Associated XP SC900-BL ESC. Starting with the motor, if its rotor shatters at just a 3S level of input it deserved to die anyways. And… the ESC is clearly rated to "handle" 3S as long as the motor is less than 4000kV.
The 5000mAh capacity of the battery has nothing to do with whether or not your electronics will be harmed. A 5000 will give you longer runtime than a 2000, or less than a 8000, but it will certainly not burn up any electronics.
There is one recommendation that you should follow for me, change the gearing. While I have never driven the ProRally, chances are it was geared for the stock 7 cell NiMH and not for 3S LiPO, so you'll probably want to drop a few teeth on the pinion to keep your motor/speedo/battery from overheating.
---
That's it ya freaks. Shoot me email, Cubby at BigSquidRC.com is the addy ya want. Hit the big time and get a free sticker pack, have yours declared "Letter of the Month" and we'll even hook ya up with a free t-shirt. Carry on…
YOUR Cub Reporter