ASK Cubby, 11.20.2014, Version- Buried In An Ocean Of Letters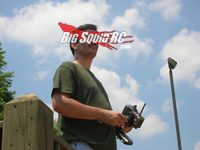 "Hi Guys,

My names is James. I work at Pacific Motorsports in Eureka CA, About 2 years back we decided that taking on RC to add to inventory. We also sell Honda, Yamaha, and Polaris vehicles and accessories. After the first year RC was so big here that we decided to build an indoor carpet track, and shortly after we got Mylaps and RCscoring Pro. We just picked up Horizon as a supplier as well. We stock Traxxas, Team Associated, Axial, Losi, ECX and many others. I would like to put Big Squid prints on our counter for our customers. I check your website daily for updates and have learned tons of valuable information from you guys. I really appreciate what you are doing for the RC world! Let me know what i need to do to get your prints in our store!

Thanks Brian"
Cubby- Yo hey James, thanks for the kind words and good luck with your investment in the rc hobby.
I don't have to tell you that we are big fans of local hobby shops here at BigSquidRC. Mostly because… we are totally selfish and want to be able to drive to an LHS and get the stuff we need the same day instead of waiting for mail order. But yes, we also realize that hobby shops are a requirement for our hobby to even exist. Without local hobby shops offering up first hand advice to noobs, our hobby is a goner.
So… what does it take for you (or any other hobby shop out there) to stock our FREE Big Squid RC Monthly publication? Not much, just an email. After you send us your brick & mortar addy we'll promptly ship you out a bunch of copies at absolutely no cost to you. Click Right Here to shoot us an email, it really is super simple.
---
"Monster truck slicks

Do you know where I can get the monster truck slicks? I'm good at finding things but I have had no luck!!

Thanks
Jon K."
Cubby- Hey ya Jon, you've got a few options here.
Option 1- legit slick MT tires. The 3.2″ Mega Maxx tires from Panther are slicks, are legendary for their performance, and are in stock right now on Tower Hobbies for a measly $20 a pair.
Option 2- go with Road Rages from Pro-Line. While slicks rock for perfectly smooth surfaces, Road Rages will kick their ass in a typical (dirty/bumpy) parking lot.
Option 3- this one is easily my favorite, bust out the Dremel tool! Insert a sanding drum, grab an old set of tires, and let'er eat. Give yourself a half hour per tire (ok, maybe an HOUR and a half for MT size) and voilà, you'll end up with a custom set of slicks at a cost of zero dollars.
---
"E-revo 5608

Was wondering if the V3.1 Basher Edition chassis (Ed note- from Kershaw Designs) are for the 1/10 scale models. Thank you

Hermann N."
Cubby- Yes.
---
Oh no you haven't, oh yes you have, made it through yet another ASK Cubby. Feeling extra frisky? Send me an email, Cubby at BigSquidRC.com. If your letter makes the big time you'll get a free BSRC sticker pack, if I proclaim yours as "Letter of the Month" we'll totally hook you up with a free t-shirt.
YOUR Cub Reporter