ASK Cubby, 11.27.2014, Version- Gobble, Gobble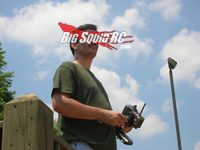 "Dearest Cubby,

This year my entire family has decided to make my house THE house for Thanksgiving dinner. Any suggestions on how to cook a turkey with an rc car?

Sincerely,

Terry G."
Cubby- At first, I thought it might be a really bad idea to took a turkey with an rc car. However, I hate, I mean absolutely despise, family coming over and destroying my house, so actually it might be a great idea. Why is that? Because cooking a turkey with an rc car is a terrible and dangerous idea, perfect for running away unwanted mother-in-laws.
Please note that the instructions I am about to give will leave you with a poisoned turkey and might very well burn your entire house to the ground. But here we go…
Grab an rc car, any rc car that you have, but preferably one that you don't care is about to die a violent death. Insert the biggest LiPO pack you have, 6-12S is recommended. Insert battery into car and place in oven. Now grab your turkey and place in oven next to the car. Run battery charger leads into oven and plug into battery. Set charger on NiMH and hit enter. Eventually this will overcharge the LiPO, sending the pack into thermal runaway, and basically create a nuclear disaster in your oven. It will also create heat, a lot of it, enough to cook at least a small portion of your bird. The toxic smoke emitted by the LiPO fire will render the bird poisonous, as well as most of the air in your house. Expect to have to call the fire department during all this, but hey, at least this forces all those annoying relatives out of your house, and never again will they decide that your house is THE house to hold a Thanksgiving dinner.
Ok, for those of you that listen to EVERYTHING I suggest, PLEASE do not attempt the above advice.
---
"R/C Truck or Tractor

Hi, this is Becky S. and I am in search of a R/C Truck or Tractor for my son. He has a pulling obscession. I will start by saying he is only 6 but, is very mature for his age. He is wanting a r/c pulling truck or tractor for Christmas. I have been searching the internet for countless hours trying to find something that he will like and I can afford. He prefers Tractors but, I have come to the conclusion that there is none so he is also into truck pulling as well so if I can find one of these that would be great. I am just looking to get him set up in some kind of starter truck. We are not looking for anything for competition…yet…I was wondering if you could either e-mail me or call me. I really was not wanting to spend over $300 or $400 dollars. Not sure if this is even possible but, I would love to talk with someone who knows a little more about it.

Thank you for your time and any input you could help me with

Becky S."
Cubby- Yo hey Becky S, thanks for the email.
RC pulling is a very, veryyyy small genre in our hobby, therefore you won't find many pulling products for sale. From having attended a half dozen rc pulling events in the last couple of years, most of the machines at these events are hand made, extremely specialized, and expensive. Certainly the ones I've seen are very capable of pulling hundreds of pounds, but all that ability comes from some serious monetary input.
It is cool to hear that your son is into pulling. And… I do have one affordable option for you, the Tamiya RC Farm King, the RTR version (just needs batteries and a charger) goes for $265 on Tower Hobbies. Now… on the downside, the Tamiya Farm King isn't set up for pulling, it is set up for wheelies and general bashing. On the upside, it is in your price range and your son will probably feel pretty cool stacking weights on the front to keep the nose down when he does pull with it. Yes, there are some real, true, dedicated tractor pulling chassis available from places like Outlawhobbie.com, but they might be well out of your price range by the time you get everything needed to make one run.
---
That's it for ASK Cubby, go get some more turkey, watch some more football, and get in a solid nap (and do NOT try to cool your turkey with an rc car, LOL). Shoot me an email, Cubby at BigSquidRC.com. Emails that make the big time get a free sticker pack, if your letter is declared "Letter of the Month" you'll win a free BSRC t-shirt.
YOUR Cub Reporter