Atomik Metal Mulisha Brian Deegan 1:18 Scale Ford Raptor 150 Short Course Truck Review
THE Atomik Metal Mulisha Brian Deegan 1:18 Scale Ford Raptor 150 Short Course Truck Review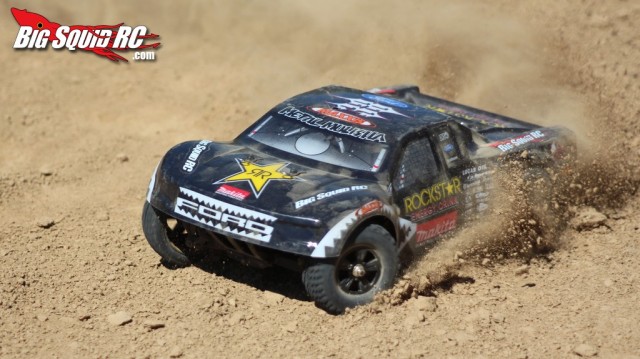 Feel like throw'n the horns and bust'n some rc moves 909 style? For those of you that do, or for those of you simply looking for a nifty small scale off road machine, Atomik has an all new 18th scale short course truck done up in Metal Mulisha/Brian Deegan livery. It's 4wd, it's electric, and it's ready to tackle some rough terrain, but is it worth putting in your rc garage? Let's find out…
From: Atomik RC
Direct Link: Brian Deegan Ford Raptor 150
Review By: Cubby
Pics By: Cubby
Specs- –
RTR or Kit: RTR
Age: 14+
2wd or 4wd: 4wd
Electric or Gas: Electric
Waterproof: Yes
Scale: 1/18th
Length: 272 mm
Height: 104 mm
Width: 168 mm
Motor: 370 brushed
Speed Controller: Combo with receiver
Radio: 2.4 GHz
Slipper Clutch: None
Driveshafts: Plastic
Shocks: Plastic bodies, oil filled
Tires: Short course tread with soft inserts
Battery: 6 cell 1000 mah NiMH
Warranty: 30 days electronics, 90 days for non-electronics
Street Price: $130
Primary Competition: Team Associated SC18, Helion Animus 18SC
What's Needed To Complete: The Atomik comes with everything you need except four AA batteries for the transmitter.
Build Quality: The Atomik looked well put together, no leaky shocks, spur/pinion mesh was spot on, and only in a couple spots did I find excessive flash on the plastic parts.
Test Drivers: Cubby, Brian, Tim
Test Venues: RC Outlaws in Collinsville Illinois, paved cul-de-sac, and a grassy backyard.
Set-up Notes: After adding four Venom AA batteries to power the transmitter we ran the Atomik Deegan SCT bone stock.
Turning: Plenty. Much like the Helion Animus the Deegan SCT has loads of steering, too much IMO. While the Deegan truck doesn't over-steer quite as badly as the Helion truck, it still steers too much, thus making the truck difficult to drive. Adjustments can be made to take the steering out but out of the box the truck turns on a dime and leaves a buck in change.
Jumping: Normally 4wd's with no center diff are overly responsive to mid-air corrects, but the Atomik wasn't bad. The power system had just enough power to bring the front up during endo's while the stabbing the brakes brought the nose down in a relatively controllable manner. Compared to other 18th scalers the Atomik jumped very well.
Bumps/Whoops: For an 18th scale it did an admirable job in the rough. One of the places we tested at was a fairly rough 8th scale track, yet we could still get the Atomik around without too many holy cow moments. The suspension is slightly under-damped both front and rear, yet we were still able to make it through rough sections better than you would have expected an 18th scaler could do.
On-Road: Too much steering and soft tire inserts results in traction rolls. The Atomik can be fun on-road, but you will need to tune some of the steering out first.
Grass: Driving an 18th scale in grass is kinda like trying to roller skate in gravel, you can try like hell but it just isn't going to happen. If grass is part of your bashing plans I highly suggest you look into buying the larger 8th scale edition of the Deegan truck.
Tires: Nice scale looking tread design that provide good grip on most surfaces.
Power: Surprising. I wasn't expecting much go power from the stock brushed motor and 6 cell NiMH combo so I was pleasantly surprised on my first squeeze of the throttle. Nice smooth power-band with decent power from bottom to top. Enough power for big rooster tails and more than enough to make some good sized jumps at the track. I must add that while the motor put out good power it ran very warm, hot enough to where you would not want to put your hand on it after a run, and hot enough that the motor is destined for a short life span.
Radio: I didn't have a problem with the rubber covered steering wheel, but other test drivers simply did not like it. Otherwise, range was good and it worked without issue for us.
Broken Parts: Our Atomik broke early in testing. We did some light grass driving, then some light pavement driving, then headed to our local track. Only a couple packs in we landed on top of a pipe and broke one of the plastic rear tie rods. The tie rod broke because of a bad casting, there were lots of air bubbles in the plastic at the spot of the breakage. Shortly thereafter the servo died, perhaps because of the lack of a servo saver. We never got close to the torture portion of our testing with the Atomik.
Misc Notes:
The body is a bit too narrow resulting in unwanted rubbing on the tires. This is particularly noticeable on jump faces and landings.
Nice body clips, kudos.
There is no servo saver. This is great for steering accuracy, but horrible for keeping the servo alive.
Best Mod Under $5:
I have a few-
1. A smaller pinion. Dropping a couple teeth on the pinion will make the truck a bit slower, but it will reduce motor temps and help it live longer.
2. A servo saver to keep from blowing up the servo.
3. Stiffer front springs and softer rears
4. Heavier front shock oil
Best Mod Over $5:
1. Replace the ball-studs, tie-rods, and rod ends
---
As with all of our stuff, if you see us at a bash, stop by and check out the vehicles we have with us. We may let you take a test drive, and at the very least get you some stickers!
SUMMARY
Time To Bash – 7.0/10 – The included wall charger is very, very slow. You will need to upgrade to a real charger ASAP.
Workability – 9.0/10 – Very simple layout and everything is easily accessible.
Car Show Rating – 9.0/10 – What can I say, we are big Deegan fans around the office. Nice scale looking wheels and tires too.
Bash-A-Bility – 6.0/10 – The Atomik broke very early in testing.
Fun Factor – 8.0/10 – We had fun blasting around in the dirt with the Atomik
Handling – 7.0/10 – The Atomik jumped and handled the bumps well but too much steering made it hard to drive.
Value- 7.0/10 – The Atomik has an attractive enough price point but repair parts can run up the bill.
Parts Availability- 7.0/10 – Parts are available on-line but are virtually non-existent at local hobby shops.
Big Squid Rating – 7.5/10 – Tentacles.. The Atomik Deegan Raptor SCT has good power and is fun to blast around in the dirt, but it does have some teething pains.