Atomik RC 1/18 Metal Mulisha Rally Car Review
THE Atomik Metal Mulisha Brian Deegan 1:18 Scale Rally Car Review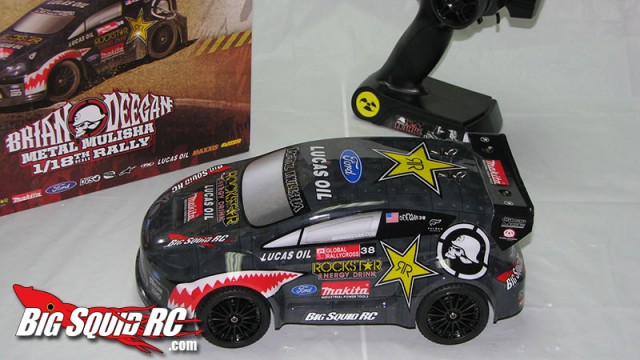 It's safe to say, that at this moment the RC Rally Car scene is pretty hot! Just about every company on the planet has a new rally car, or is working on one. The folks at Atomik not only predicted this trend, they mashed it with Brian Deegan and the Metal Mulisha on top of their Ford Fiesta license to take their 1/18th scale car to the next level. Can all the looks be backed up by performance? Keep reading to find out..
From: Atomik RC
Direct Link: Brian Deegan Ford Fiesta Rally Car
Review By: Brian
Specs- –
RTR or Kit: RTR
Age: 14+
2wd or 4wd: 4wd
Electric or Gas: Electric
Length: 12 in (305 mm)
Width: 6.69 in (170 mm)
Height: 4.43 in (110 mm)
Weight: 21.5 oz (610 g)
Wheelbase: 6.46 in (164 mm)
Motor or Engine: 370 Brushed Motor
Batteries: 7.2V 1000mAh NiMH Battery
Radio: 2 Channel 2.4GHz with 2:1 Receiver/ESC
ESC: 2:1 Receiver & ESC Combo
Street Price: $130
Primary Competition: Team Associated RC18R, Helion Animus 18SC
What's Needed To Complete: The Atomik comes with everything you need except four AA batteries for the transmitter.
Build Quality: Out of the box the build quality was good. The gear mesh was fine, no leaking shocks, nothing needed attention, we were ready to go.
Test Drivers: Brian, Adam the Intern, Melissa, Cubby
Test Venues: paved cul-de-sac, On-Road and Off-Road track at Leisure Hours Raceway in Illinois
Set-up Notes: We ran the Atomik Rally car completely stock. We used 4 Venom AA's for our transmitter.
Turning: When it comes to a rally car, you are going to want a lot of steering, and a lot is what you get. The car was easy to place anywhere we wanted to on the track, and the turns were extremely tight. You could say there is almost too much steering, as it was easy to over correct coming out of a corner, or trying to drift.
Jumping: You don't normally expect to be jumping too much big with a rally car, but we tend to do the stuff you don't expect. We started off jumping the curbs at the on-road track and eventually took it indoors to the off-road. Jumping was surprising decent for a rally car that isn't meant to be catching the big air. The 4WD let us adjust (a little) to bring the nose up or down when needed, and any single jumps were no problem.
Bumps/Whoops: We were running on the indoor off-road track, and while it was smooth in some parts, other areas had some serious pits and rough stuff. For the 1/18th scale rally, that was like handling all sorts of bumps, and it did very well. We had no issues running laps around the track.
On-Road: On road the rally did very well. The steering is a little over sensitive, and would sometimes make it difficult at top speeds to keep it straight. From a bashing view, it was fun to drive around the track, and just get crazy trying to drift the turns and do miscellaneous donuts when possible. If you were really going to try and race, you would need to spend some time and make some adjustments to tuning the steering.
Grass: The 1/18th scale Metal Mulisha wasn't going to be doing anything in the grass. The body is just way to low to even think about it.
Tires: The on-road tires look good and handle all sorts of surfaces well.
Power: Running on the included 6-cell NiMH pack we had a very good amount of power. The car was quick off the line, and the top speed was more than enough to satisfy any new owner.
Radio: The stock 2.4GHz radio works well, and we didn't experience any glitching or issues.
Broken Parts: After a LOT of abuse (we will talk about in the misc notes later), the only broken part is the body is a bit torn up. It's hard to believe the beating that this car took, and nothing broke.
Misc Notes:
After Cubby had a few issues with the Atomik 1/18th SC, we wanted to find out if he just got unlucky or what. So after all of our testing was done, I let Adam the Intern loose and told him to 'Finish it off'. We went out to the on-road track where there is a huge straight that leads right into a large wooden wall. At full speed he slammed into the wall with a cringe inducing crunch. The Rally bounced off, and he drove away. He lined up and did it again, and again it drove away. The front of the body started to show some wear, but it was taking most of the force. For the third time, he again went full throttle… WHAM! And drove away.
That's when we he really started going crazy, and just slamming and jumping into everything. The curbs, the wooden rails, people's ankles, everything! We then took it back inside, and tried to destroy it. It lived, even after slamming into the brick wall about 3 more times. I am willing to bet we spent a fully charged battery just trying to break the car, and it survived. There is a good amount of space between the front of the body, and the rest of the vehicle, and it acts as a huge barrier and cushion. If one of your fears is tapping a pipe and breaking something, fear not with this car!
Best Mod Under $5:
There is no servo savor, and while the body kept the wheels safe, I would probably suggest pickign one up.
Best Mod Over $5:
There are a lot of hop-up parts available right now from Atomik. If you want to add some bling, go check those out.
---
As with all of our stuff, if you see us at a bash, stop by and check out the vehicles we have with us. We may let you take a test drive, and at the very least get you some stickers!
SUMMARY
Time To Bash – 7.0/10 – It has a pretty slow wall charger. If you don't have a better charger, you are going to be waiting a long time between bash sessions.
Workability – 9.0/10 – We have worked on a few of these, and everything is pretty simple and easy to get to.
Car Show Rating – 9.0/10 – Everything on the Brian Deegan Rally car looks good. Great body and style.
Bash-A-Bility – 10/10 – We tried really REALLY hard to destroy this one, and couldn't!
Fun Factor – 8.0/10 – It was fun on-road and off. Who doesn't like donuts?
Handling – 7.5/10 – The steering is a little too touchy, but it handled on-road and off-road well.
Value- 8.0/10 – For $130, you get a cool looking rally car, a 2.4GHz radio, and it even has hop-up support. A decent value for anyone getting into the hobby.
Parts Availability- 7.0/10 – You are going to have to order parts online. Most are in stock, but you won't be finding them at your local hobby shop.
Big Squid Rating – 8.1/10 – Tentacles.. The Atomik Deegan Metal Mulisha Rally Car has plenty of power, it looks great, and will bring a smile to most people's faces when bashing.
Need more pictures? Check out our unboxing photos of the Atomik Rally Car which includes some comparison shots to their SC truck.