Atomik RC 24″ Whiplash Electric RTR Boat w/ Video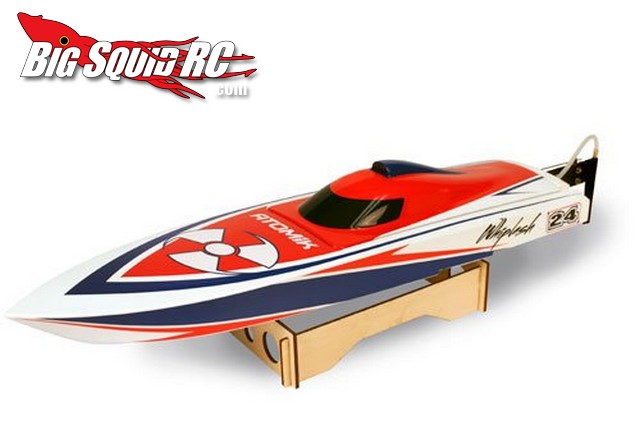 It won't be long until mother nature starts warming back up and bashers head outdoors to get their rc fix. One way of getting your rc on is with a hobby grade boat. The latest boat release from Venom Group is the Atomik RC Whiplash 24″ RTR. If you are an rc basher you will already be familiar with its 2.4 GHz pistol grip transmitter, and the fact that it comes with a brushless power system. The Whiplash is set up to be a great introduction to hobby grade boating, it combines powerful performance with simplicity and durability at an affordable price point. To make it even easier to get started, the Whiplash comes RTR, already assembled and with everything you need to get up and running. Some of its specifications and features include-
* Ready-To-Run with 2-Channel 2.4GHz Tx/Rx
* Includes 3 Cell Lithium Polymer battery & balance charger
* Durable blow-molded ABS hull with factory applied graphics
* Water-cooled brushless ESC handles up to 4S 14.8V LiPO
* Waterproof radio box protects valuable electronics
* Magnetically secured hatch
* Incorporated hull channels for excess water drainage
* Adjustable Flexdrive™ system for easy tuning
* Age Rating: 14+ With Adult Supervision
* Scale: 1:18 Scale
* Length: 28.12 in
* Height: 4.62 in (117 mm)
* Weight: 2.41 lbs ( 1.048 kg) w/o battery
* Beam: 6.5 in (165 mm)
* Motor: V380 2200Kv Marine Brushless Outrunner
* Batteries: 20C 3S 2100mAh 11.1V Venom LiPO
* Charger: Venom 2-3 Cell Balance LiPO Charger
* Radio: VR2T 2-Channel 2.4GHz Tx/Rx
* ESC: 50A Marine Water Cooled Brushless ESC
* Lithium ELC in Grams: 1.89
The Whiplash is in stock right now, and they have a street price of $299. Hit up the official Atomik RC Website for more details on this and all of their fine products.
Looking for more rc boat news here on BigSquidRC? HERE is the link you want.
Check out the video below to see how much rip the Whiplash has on the water.