Awesome new product from Pro Boat.
Those of us that drive boats have, at one time or another, been in a position where our boat was dead in the water.  Either the batteries dumped quicker than we thought, or we cut a turn too hard and flipped the thing.  Retrieving the boat has become as much an art form as driving it.  Whether it's specially made watercraft, rigged up fishing gear, or a well trained dog, there's quite a bit of thought put into how to get that disabled boat back to shore.  But now Pro Boat has created the be-all, end-all of boat retrieval.
It's a Duck.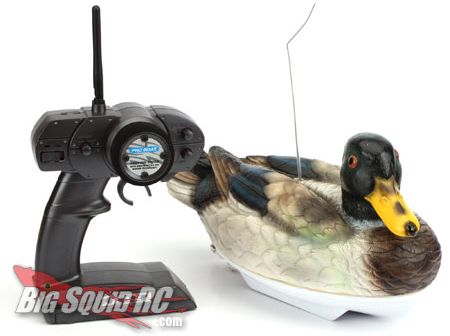 Officially named the Retrieval Decoy, and actually intended to bring in hunter's decoys after a long day of sitting in the blind, this Duck has the looks and power to help retrieve anything you've lost off-shore without disturbing the surrounding wildlife.  A "baby duck" gaff is included to be towed behind the parent duck to make snagging things easy.  It gets the power through a 30 amp waterproof ESC that controls a 380 size motor.  Motion is provided by a ducted prop system to make it manueverable, while not tossing up a huge rooster-tail.  Control is provided by a 2.4 GHz radio system and a 1200 mAh, 7.2v NiMH battery with a wall charger included as well.
List price is $199.99 and it should be hitting store shelves later this month.  Check out the Pro Boat web site for more info.
Pro Boat Retrieval Decoy gallery