Axial budget 2.4 GHz radio – AX-2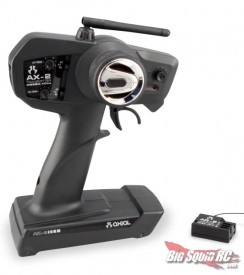 Axial really wants the budget bashers to open up their wallets today.  Their new, low-cost, 2.4, 2-channel radio is about as bare bones as you can get.  The AX-2 features throttle and steering trims, plus servo reversing.  And… a wheel for steering… and a trigger for throttle control… oh and there's an on/off switch too!
Ok, so it doesn't really have any features, but for an MSRP of only $90 what do you expect?  Isn't the low-cost and high quality 2.4 GHz signal enough for you?  If you're looking for a 2.4 GHz replacement for some 27 MHz RTR gear, then the AX-2 may be a good place to start looking.
Check out Axial's web site for more info.