Axial Deadbolt Mega Truck Conversion: Part 3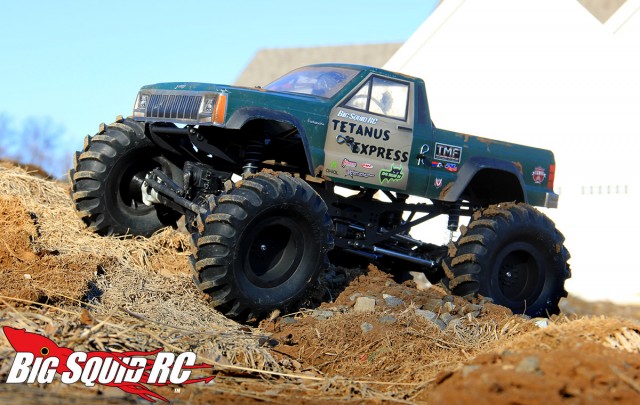 To see Part 1 of this build CLICK HERE , to see Part 2 CLICK HERE
It's ALIVE! I recently received the final and most important piece of my build; the tractor tires and wheels. After a quick shot of flat black paint it was time to mount em' up and see what this thing could do. Click the "Read More" below to see Part 3 of this Axial Deadbolt to Mega Truck build series.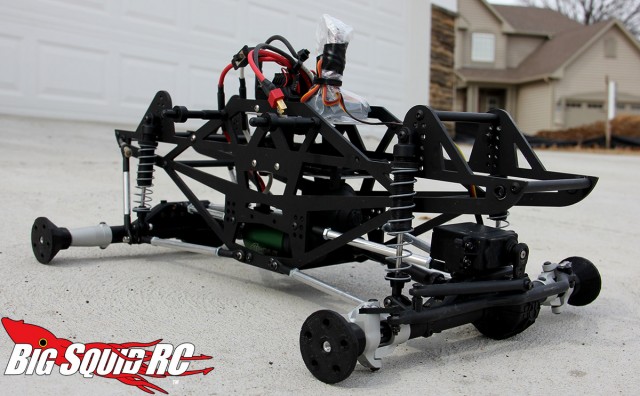 The rc mega truck thing reminds me of what it was like to get crawling tires back when that whole scene started up; you basically had to do it yourself or "know a guy". It was like that for me when I set out on this project. Yeah RC4WD makes a sweet 1.9" tractor tire (Mud Bashers), but those weren't an option for me because I needed something bigger. After asking around on the 'net I was finally put into contact with a dude from Michigan that had a reputation for doing just what I was looking for. His name is Robbie Billings and after a quick email exchange a set of Tamiya Clodbuster tires and wheels were headed his way for modification.
Fast forward a couple weeks and I had a freshly chopped set of mud tires sitting on my bench. There was a lot of work put into these things and it really shows. Despite 2 inches coming out of the center section they looked like they had just come out of the mold. Thanks again Robbie. After installing some CPE Wraith to Clodbuster wheel adapters (see chassis pic above) and hitting the wheels with black paint the newly minted "Tetanus Express" was ready to go. It was finally time to see if this bucket of bolts would hold together!
Shocks: Axial Deadbolt
Transmission: Axial Deadbolt (AX10/SCX10)
Chassis: CPE Barbarian with 4 link and sway bar kit
ESC: Castle Creations Mamba Max Pro
Motor: Castle Creations 6900kv
Steering: Hitec HS-5646WP (painted black)
Driveshafts: MIP Hardened Steel
Axles: Axial AR60's with locked rear/open front and Vanquish chubs/knuckles/lockouts
Body: Pro-Line Jeep Comanche (paint by The Monster Factory)
Battery: Pro-Match 2S 5000 mah
Wheels: Tamiya Clodbuster w/ CPE Axial adapters (narrowed by Billings Custom Workz)
Tires: Tamiya Clodbuster (narrowed by Billings Custom Workz)
This doesn't sound very articulate, but the main thoughts running through my head while testing were HELL YEAH WOOOOOO TURN THAT SUMBITCH LOOSE! The truck is grossly over powered and launches like a cruise missile wherever you point it. Watching those big tires dig in and throw the front in the air kept a smile on my face. It took some time to get used to all the power on tap but I eventually managed to keep it on all fours with regularity.  The wide stance and open front differential help to keep the truck controllable in corners and slide the sway bar equipped rear end around like a giant drift car. I still need to make a few changes but on the whole it's a total blast to drive. A buggy this isn't, but it behaves like a 1:1 mega which is just what I was wanting.
You may be wondering why I didn't test it in actual boggin' mud. Well, thanks to the crappy winter and subsequent freezing temperatures this was the best I could find. Nonetheless, I'm really happy with where the truck is right now and thankfully it all held together. Once it warms up (assuming it ever does) I'll be putting it through final trials in a deep mud pit to prepare it for spring competition. Look for the final part of this build series to show up soon right here on Big Squid.
Click Here for more Axial news on BigSquidRC.