Axial EXO Terra Buggy Hop Ups Review
THE Axial EXO Terra Buggy Hop Ups Review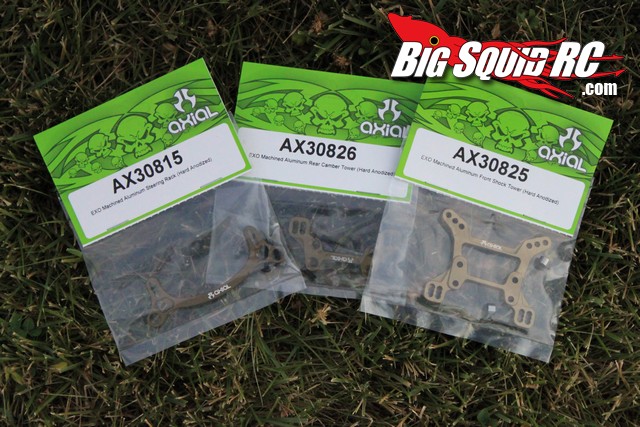 The Axial EXO Terra Buggy is a very competent bash-mobile, but who can resist hopping it up? This week we'll be taking a look Axial's full line-up of hop-up parts for their EXO Terra Buggy. Are they just for bling, or do they toughen it up to the next level? Let's find out…
From: Axial Racing
Review By: Cubby
Pics By: Cubby
Part Numbers-
AX30415- Front Universals- $48
AX30417- Rear Universals- $48
AX30811- Front Toe Block F1- $19
AX30812- Front Toe Block F2- $19
AX30813- Rear Toe Block R1- $19
AX30814- Rear Toe Block R2- $19
AX30815- Aluminum Steering Rack- $23
AX30825- Aluminum Front Shock Tower- $33
AX30826- Aluminum Rear Camber Tower- $33
AX30091- Front Shock Set- $44
AX30851- Steel Spur Gear- $24
Test Drivers: Cubby, Brian, Tim, and Iron Mike
Test Venues: Leisure Hours in Joliet IL, backyard, Costco parking lot, and multiple cul-de-sac's
Installation & Build Quality: We encountered no issues during installation. Nothing needed to be modified or tweaked for a proper fit. However, the bearing holes in the upgraded steering rack were a tiny bit too large. The holes in the steering rack weren't so large as to cause a problem, but they were a tiny bit sloppier than we expected. Everything else was spot on.
Durability: Excellent. Several of the upgraded parts are thicker than stock to enhance durability, we were not able to break, bend, or tweak any of the Axial upgrade parts.
Misc Notes:
Shocks– The upgrade shocks are a must have on the EXO in my opinion. Why? Because the caps on the stockers like to pop off on big hits. The upgraded shocks not only look better, but are of much greater quality and will save you a lot of cursing down the road.
Spur Gears– Are you one of those guys that absolutely must bolt in way more power than can possibly be put down to terra firma? Yes, us too. The steel spur upgrade can handle more power than you can bolt in.
Universal Drive-shafts– Also a must have in my opinion. Why? Because the stock bones love to go flying out at 20,000 rpm to finally settle into low Earth orbit never to be found again. At least if you pop out a universal it doesn't go flying.
Toe blocks– These are mainly a bling part, but worked well for us. We noticed one of the stockers was bent when we removed it, all the upgraded toe blocks have held up to some pretty horrific slams.
---
As with all of our stuff, if you see us at a bash, stop by and check out the vehicles we have with us. We may let you take a test drive, and at the very least get you some stickers!
SUMMARY
Time To Bash – 8.0/10 -The upgraded Axial parts bolted up just as easily as the stockers and there was no need to modify any of them.
Car Show Rating – 9.0/10 – All the parts looked elite.
Bash-A-Bility – 10/10 – We torture our EXO every weekend, meaning we slam into hard objects way faster than we should (sometimes not even on purpose!). All the Axial upgrade parts are still in perfect working order.
Fun Factor – 9/10 – The upgrade parts really do enhance the fun factor of the EXO. Why? Because you can worry less about breaking parts, and you Never have to worry about popping off a shock cap, or losing a dog bone, again.
Value- 8/10 – The EXO upgrade parts by Axial aren't cheap, but quality rarely is. The price is right in line with the looks and quality of the parts.
Big Squid Rating – 8.8/10 – Tentacles.. The Axial upgrades are great looking parts that genuinely enhance the durability and fun factor of the EXO, definitely worth the cash.