Axial EXO Terra Buggy Review
THE 1/10th 4wd Axial EXO Terra Buggy Review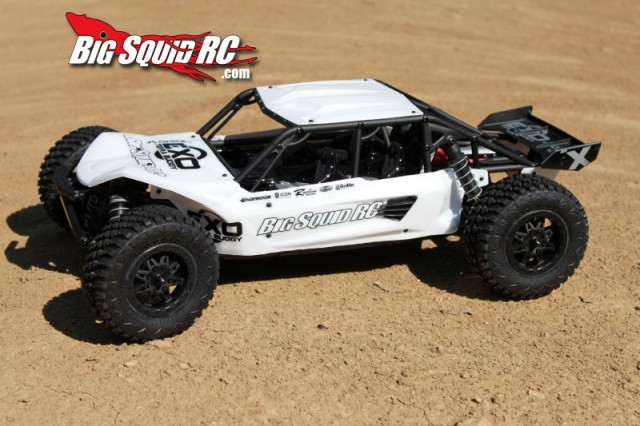 Wind back the hands of time to when Associated first released their legendary RC10 buggy. The RC10 flew off LHS shelves not only because it had ground breaking technology, but also because of its incredible scale looks. Since then rc buggies have gradually become less and less scale realistic, today rc buggies look more like UFO's than their full scale counterparts. But… because short course trucks have taken off manufactures are now making an effort to put the scale looks back into buggies. Kyosho, Losi, HPI and now Axial have all released what we like to call around the office "scale buggies", buggies that actually look like their full scale brothers. If you ask around the industry you'll hear many insiders say "scale buggys" are great for the hobby and they are our future.
We've been building, driving, hucking, flipping, bashing and thrashing Axial's new EXO Terra scale buggy for the last several weeks. Is it worth your cash? Will it single handedly turn the rc world from UFO's to real scale looks? Read on…
From: Axial Racing
Direct Link: EXO Terra Buggy
Review By: Cubby
Pics By: Cubby
Specs- –
RTR or Kit: Kit
Age: 14+
2wd or 4wd: 4wd
Electric or Gas: Electric
Scale: 1/10th
Length: 19″ Height: 9″ Width: 11.6″ Wheelbase: 13.1″ Ground Clearance: 2″
Weight (measured by BSRC w/ batt): 6.6 lbs.
Motor: 550 is recommended, not included
Speed Controller: Not included
Radio: Not included
Differential: Metal gear diffs front, rear and center
Slipper Clutch: No
Driveshafts: Metal
Shocks: Oil filled, plastic bodies
Screws: Hex head
Bearings: Yes, full set
Spur/Pinion Pitch: 32 Pitch
Tires: Axial, scale tread
Battery: Not included
Warranty: "Your Axial product is warranted to be free of defects in materials and workmanship when new."
Street Price: $345
Primary Competition: HPI Apache C-1
What's In The Box: The EXO is a kit that when assembled becomes a rolling chassis. The EXO does include wheels, tires and a clear body, but does not include electronics.
What's Needed To Complete Kit: Transmitter, receiver, speedo, motor, paint, steering servo, CA glue, battery, battery charger, AA batteries for transmitter
Build Quality: This is a kit, the build quality is up to you.
Test Drivers: Cubby, Brian, Tim, Iron Mike
Test Venues: Dirtburners in St Louis Missouri, Leisure Hours in Joliet Illinois, RC Outlaws in Collinsville Illinois, a Costco parking lot and my backyard.
Set-up Notes: We set up the chassis with negative 1 degree of camber front and rear. Ride height was set to bones level front and rear. We dialed in 1 degree of toe out on the front. We used a Futaba 4PL as the radio system. Speedo was a Castle Sidewinder version 2, motor was a Castle 1410 3800 kv. We installed a Hitec HS-7965MG to do the steering duties, and used a MaxAmps 2S 6500 Race Spec Lipo to power it all.
Build Notes: If you are an experienced kit builder you won't have any problems. The instructions are decent, but the illustrations were a bit dark, and some of the details were a bit on the small side. The EXO is also one of those kits where you pretty much have every bag open by the third step. At this point in the RTR vs Kit war consumers literally pay more for the "privilege" of assembling their own scoot. Because of that fact manufactures really should up their game with the way their kits go together. For example, all instructions should be top notch and step number one should only involve bag 1, step two should only involve bag two, etc. Lastly, we did run into a couple of issues during our build. The first issue involved one of the metal steering rack pins, it did not come tapped. I used a 4/40 tap to make the threads and then inserted a 4/40 screw. The second issue was the included servo horn intended for Hitec, it did not fit properly. To rectify the problem I simply used one of the horns that came with the Hitec servo. The final issue was I stripped one of the shock caps during the build. Otherwise everything went together smoothly (albeit slowly from digging through multiple bags looking for the correct parts).
Turning: The EXO steering geometry has backwards Ackerman and it has a ton of bumpsteer, those are two things certainly not conducive to good corning. However… regardless of what the geometry might indicate, I found the EXO to be the best turning vehicle I have tested for BigSquid, in fact I think I'd go so far as to say the EXO is the best turning rc I have ever driven with a stock set-up. The front tires stick like glue on both dirt and pavement, turning exactly where you point them, and unlike many other rc's with lots of steering, the rear of the EXO is well behaved, following the front tires like a train on rails. The rear end has excellent side bite, so much so it rarely breaks loose. To boil it down, the EXO is a fabulous turner that makes you look and feel like Superman out on the track. The EXO turns incredibly well on tight 180's, AND freak'n rails on sweepers, something I thought was simply impossible to do. Kudos to the Axial guys on how the EXO turns, if you ever wanted to see what a truly epic turning rc feels like, the EXO is a must buy.
Jumping: On slippery off road tracks the EXO jumped fine, jumping much like an 8th scale race buggy, you'll be impressed how it jumps on track. But on high bite short jump faces, the EXO had a tendency to endo. Jumping the EXO off one of our short wood stunt ramps nearly always ended in a massive endo. I suspect the extra rear overhang for the roll-cage and the soft damping of the rear suspension were the culprits for causing the nose down attitude.
Bumps/Whoops: Typically vehicles that turn on a dime don't handle extended stretches of the rough stuff very well, but the EXO did just fine. The stock spring rates and the compression and rebound damping on the shocks all worked extremely well with the buggy's geometry. In a field full of large dirt clods the EXO easily pounded right through at speed. On track the EXO remained quite stable in the blown out sections. In a grassy backyard full of holes and chop the EXO remained very controllable at moderate to high speeds.
On-Road: The EXO turns freak'n awesome on-road making the EXO a total blast to rip around on pavement. The suspension soaks up road joints and small potholes perhaps better than anything else I've ever tested. At slower speeds the low slung EXO can not be traction rolled, but at higher speeds turning too fast will flip the EXO on its lid. To boil it down the EXO certainly isn't a touring car, but it drives amazingly well for an off roader on pavement.
Tires: I liked them a lot. The stock tires not only look really trick but they worked much better than expected. On pavement they gave good mechanical grip and made that cool full scale "squealing" sound. On a bone dry Midwest off road dirt track they also gave decent traction, not as good as dedicated Pro-Line race tires, but quite admirable. Also, because they have a large block design they'll last a while on pavement. Btw, the stock inserts are quite soft which is a plus on loose dirt, but less than optimal on pavement.
Power: We powered our EXO with a Castle Sidewinder SV2, Castle 1410 3800 kv motor and MaxAmps Lithium batteries. The stock 32 pitch pinion looked small but yielded good power and top speed with this set-up. There was enough power on tap to burn the tires off from a dead stop, more than enough to make all the jumps at the local track, (even those only 8th scale buggys were making) and temperatures were all quite reasonable.
Broken Parts: To this point zero "broken" parts, however we've had more than our fair share of issues with the EXO. On the first run the motor mount slid, moving the pinion away from the spur bringing out buggy to a halt. After reading a long warning about how over tightening the grub screw on the motor mount can cause issues, I followed some on line instructions on how to not over tighten it and that resulted in the motor mount sliding. Since then I have cranked the grub screw down on the motor mount, I'd rather the motor stay put and deal with issues later than have the buggy grind to a halt every run (although the motor mount has still shifted on us). Also… the rear dog bones like to pop out. I put a couple Associated shock o-rings in the rear diff out-drives and cured this issue. We also had one of the bolts in the steering rack fall out. During assembly I noticed those bolts seemed a couple mm too short and sure enough one of them fell out after a half dozen runs. I installed slightly longer screws and haven't had the same issue again. Finally, the screws that run up through the chassis into the diffs keep loosening up.
During the course of testing I started hucking the EXO off the second story roof of a house in an attempt to break it. On the first jump I missed the landing point and squarely cased a railroad tie with the EXO's chassis from a height of right around 20 feet. This was pretty much a worst case scenario for that jump and nothing on the EXO broke, in fact it was able to drive away. However, both the chassis and rear center driveshaft were slightly bent, still not bad for a worst case landing. I then proceeded to jump the EXO off the roof again and landed perfectly, the EXO drove away with no issues.
Misc Notes:
The tires and rims are different front and rear, be aware of this before you start gluing them up.
The Axial team went to great lengths to ensure scale looks in the EXO, more so than any other off road kit on the market, kudos to them.
The included servo saver is a typical "V notch" design, but… it has a sharper angle than most designs making it nearly worthless. You can polish the plastic surfaces and you can add grease to them, but the stock servo saver works very poorly, period.
The e-clips are not needed and are a PITA in the diffs.
The diffs as well as the rest of the drivetrain are considerably lighter than typical 8th scale buggy units, so any plans you may have had of using an 8th scale power system you might want to re-evaluate. However, the lighter drivetrain allows the use of much more affordable 10th scale power systems. Pretty much any 550 system is going to give you excellent yank in the EXO.
Grub screws seemed to be the answer to any engineering problem during the design of the EXO. I hate grub screws almost as much as I hate e-clips.
There is already a perfect motor mount for this type of vehicle out on the market, it's the one that comes in the Losi SCTE. The Axial motor mount is overly complex and does not work well.
The EXO comes with a complete bearing set, yes, there are bearings in the steering rack!
The EXO's body panels do a great job of keep any water or mud out of the inner workings of the buggy.
The EXO's body panels stop most of the airflow to your electronics, a less than optimal situation.
It takes roughly 20 screws to take the cage off to work on the inside of the EXO, this is a PITA.
Calipers are your friend when building the EXO, if you don't own a set you need them before you even open bag 1. Trust me on this one.
Axial gives you a LOT of extra shock and diff oil with the kit (saving you money down the road).
If you have big hands OR like to curse you won't like installing a battery into the EXO. If you have big hands AND like to curse AND have a bad temper please lock all large hammers away before you attempt to pop a battery in. Seriously, installing a battery into the EXO is not easy. Removing the upper lexan seat tray helps a LOT with battery installation and dramatically reduces cursing. The easiest way to install a battery is from the top, not from the side like you must when the seat tray is installed.
Best Mod Under $5: If you love your servo (and want to keep it alive) I would highly recommend a Kimbrough servo saver.
Best Mod Over $5: New shocks. The stock units come with excellent settings but they are cheaply made, a set of Pro-Line PowerStroke shocks are beefier, and are much more trick.
---
As with all of our stuff, if you see us at a bash, stop by and check out the vehicles we have with us. We may let you take a test drive, and at the very least get you some stickers!
SUMMARY
Time To Bash – 6.0/10 -Being a kit you are looking at roughly 8-20 hours to get your new EXO built and on track.
Workability – 7.0/10 – The cage and lexan seating area makes working on anything quite time consuming.
Car Show Rating – 8.0/10 – Some staffers thought the EXO was the coolest looking buggy ever, others not so much, but the EXO drew a lot of positive attention at the track.
Bash-A-Bility – 7/10 – No, we didn't break a part on the Axial, however we've had numerous small issues.
Fun Factor – 7/10 – The small mechanical issues are the downer to all the fun we had while driving it.
Handling – 8/10 – The EXO is fantastic at turning and plows though the chop like a champ.
Value- 8/10 – The EXO sets ya back roughly $350, a servo will run ya $20-100, a motor/speedo combo $100-300, and a radio system $50-400. It's not cheap getting an EXO up and going, but the EXO has a lot going for it- its scale looks turns a lot of heads at the track, it turns like a velcro slot-car, and it's quite unique.
Big Squid Rating – 7.4/10 – Tentacles.. The Axial EXO has phenomenal turning and incredible scale looks but it may suffer from a few new model teething pains. But to boil it down, if you want to drive today what everybody else is going to be driving 5 years from now the EXO is where it's at.