Axial is the Official R/C Vehicle of Ultra4 / King of the Hammers for 2013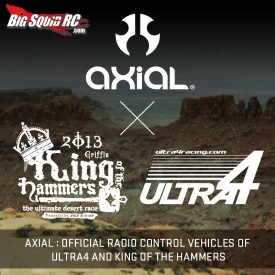 The crew over at Axial has just announced their new affiliation with the Ultra 4/King of the Hammers 2013 event. The King of the Hammers event sounds like one of the toughest races on Earth, which should make for a good fit for Axial. Check out below for part of the official press release-
"Axial R/C Inc., A subsidiary of Hobbico Inc., is proud to announce Axial as the Official R/C Vehicles of Ultra4 / King of the Hammers for 2013.
Ultra4 Racing is the latest and greatest off road motorsport event on earth. This style of racing challenges man to a duel with the elements. Unlike standard off road racing in a stadium or in the wide open desert, Ultra4 vehicles face challenges that no other motorsport demands. Competitors are not only made to cross vast areas of open desert, they also travel up boulder strewn canyons and negotiate terrain that appears impassable. To compete in such a demanding environment, competitors build custom four wheel drive vehicles that are made to crawl over the harshest terrain, then conquer the wide open desert at exhilarating triple digit speeds. This element of automotive enthusiasm is precisely what Axial R/C has set out to deliver in 1:10 scale, so the relationship between Axial R/C and Ultra4 is a very natural fit."
For more information on Axial and all their fine products hit up their Official Website. And for more Axial news right here on BigSquidRC check out THIS link.