Axial Jeep Wrangler Wraith Poison Spyder Rock Racer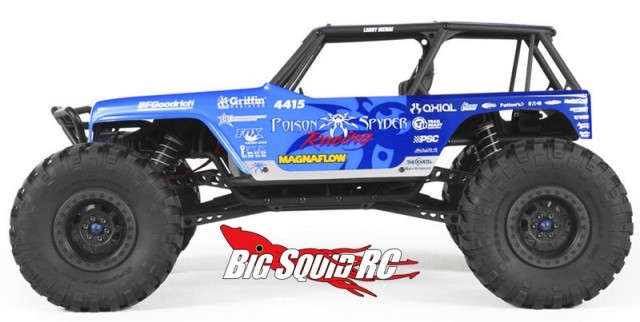 Only good things can happen when you combine Axial, Jeep, and Poison Spyder. Proof of this can be found in Axial's latest machine, the Axial Jeep Wrangler Wraith – Poison Spyder Edition rock racer.
The new Jeep Wrangler Wraith will not only make a great rock racer, but it also offers incredibly detailed scale realism and is certain to be a hit with the scale/trail driving crowd. Some of the important features include – full tube chassis, straight axles with lockers, heavy duty interchangeable face beadlock wheels, licensed BFG tires, off-center pumpkin axles, and Wild Boar driveshafts. A 20 turn brushed motor, Castle crawling speed controller, and 2.4 GHz radio gear round out the package.
The Axial Jeep Wrangler Wraith has a part number of #AX90031 and is priced at $399. For more information on all the fine products that Axial offers just click on THIS LINK. For more Axial news right here on BigSquidRC Click Here.