Let's be honest, most of us have seen the SCX10 III RTR coming out at some point, but we had no idea when. In my best Action movie Trailer voice over "THIS SUMMER, AXIAL WILL TAKE OVER THE WORLD!" Ok maybe not the world but you get where I am going with that.  After Axial's release frenzy last year, we thought this year would be a little slower for them, but they just cannot seem to stop. I think we all can agree when I say, "keep them coming!" so let us see what goodies Axial has laid out for us with the SCX10 III Jeep JL Wrangler 1/10 RTR.
From: Axial Racing and Horizon Hobby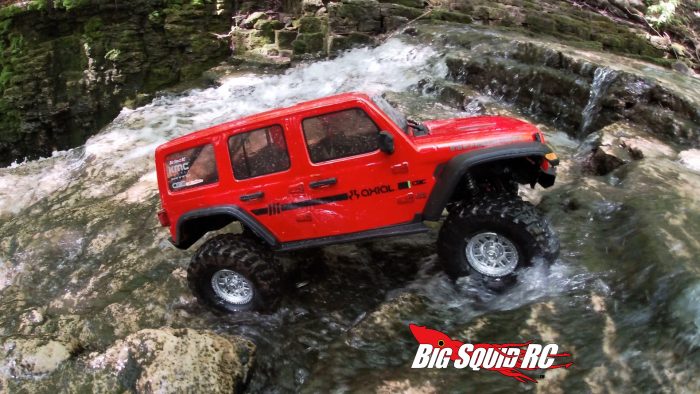 Direct link: SCX10 III Jeep JL Wrangler w/Portals 1/10th RTR Orange, and link to order over at Horizon Hobby – Axial SCX10 III.
Unboxing video:  BIG SQUID RC unboxes the Axial Racing SCX10 III RTR
Review By: Jeremy Griffith
Photography By: Jeremy Griffith
Test Drivers: Jeremy Griffith, Tum Tum, Katie Girl
Specs:
RTR or Kit: RTR
Ages: 14+
2wd or 4wd: 4WD
Shaft or Belt: Shaft
Electric or Gas:  Electric
Waterproof: Water Resistant
Scale: 1:10
Length: 19.125″ (485mm)
Width: 9.25″ (234mm)
Wheelbase: 12.3" (312mm)
Weight: 6.5lb (2.9kg)
Motor:  35 Turn 540 Brushed motor
Speed Controller: Spektrum Firma 40 Amp Brushed Smart 2-in-1 ESC&Receiver
Low voltage cut off: yes
Radio: Spektrum™ DX3™ transmitter with Thumb Steer
Differential: Locked
Driveshafts: WB8 HD Wildboar
Shocks: New threaded Hard Anodized, larger bore emulsion type shocks with improved seals.
Servo Saver: No
Screws: Hex
Spur/Pinion Pitch: 32-Pitch
Bearings:  yes
Tires: Licensed Nitto Trail Grappler Tires are now 4.75" in height and 1.7" wide in R35 Compound
Battery: You will need a battery and a charger.
Part Number: AXI03003T2
Bashing Specs:
Ground Clearance: 3″ (76.2mm)
Wheelie on demand: Not likely
Axels: AR45 PORTAL AXLES
Steering angle: 45 Degrees
Sound module: No
Self-Righting: No
FPV: No
Run Time Measured by BSRC – 35 mins on a 2s 2000mah lipo.
Top Speed: 5MPH and maybe 10MPH in second gear
Street Price: $499.99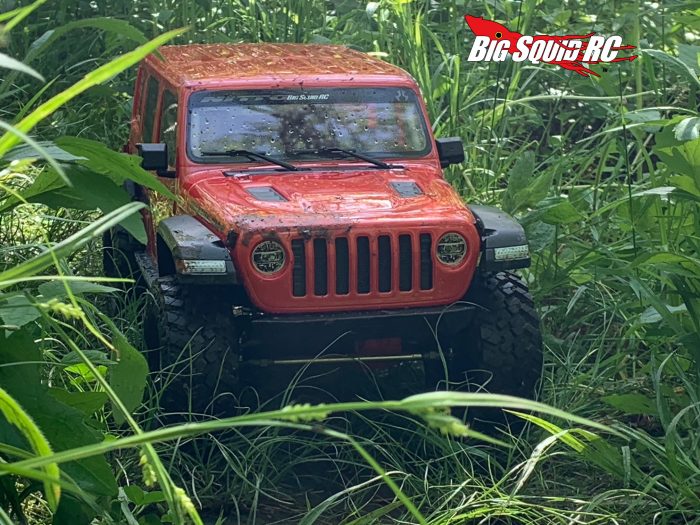 Primary Competition:  We can only see one real manufacture at this time who would be competition and that is Traxxas with their TRX4.
Set up notes:  Make sure you adjust the shocks to your liking. Out of the box the rear shocks were a little soft for my linking. The SCX10 III RTR uses a Spektrum FIRMA SMART 40A BRUSHED 4-CHANNEL ESC/RECEIVER with Integrated SMART Technology, Dedicated LED power connectors, Built-in 4-Channel DSMR® Receiver, with a Waterproof design. The Smart technology seems to be the way of the future for Axial, if you have a Spektrum Smart LiPo battery you can use the Spektrum Dashboard app to set the rig up.
Test Venues: Juicebox Off-Road Park, our secret waterfall, and Dellwood park
Radio: Normally we do not get excited about stock RTR radios, but the Spektrum DX3 is the caddie of RTR radios. Fully compatible with Smart telemetry, better range, fast response and having the on the fly drag break adjustment is greatly beneficial for the trails. I am also a fan of the thumb toggle for us one handed drivers, makes filming and driving the rig so much easier than using your thigh or stomach.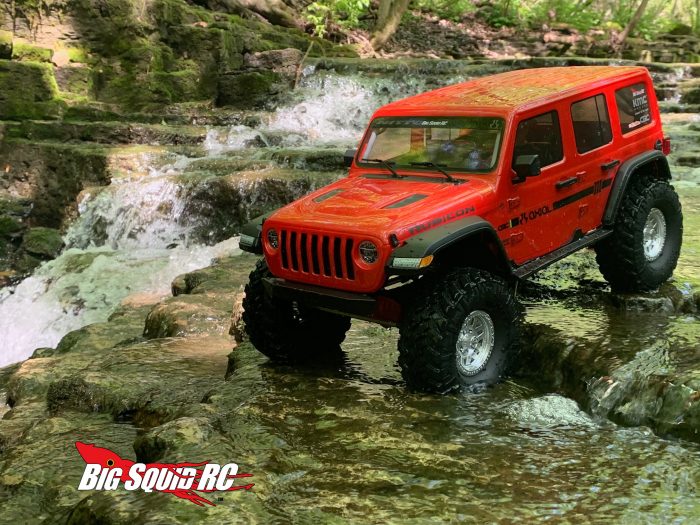 Turning: The SCX10 III RTR is exceptional when it comes to turning, the stock servo is well powered for normal crawling around, and that alone is an accomplishment because we all know stock servos can be lacking in the power department. What sets the SCX10 III apart from many others is the DIG function. Having that ability to lock up the rear axle and let the front axle do all the work for those tight turns is a huge advantage for all you comp fans. It also comes in handy in when trying to save the rig from falling off a cliff.
Crawling: This rig has a whole new feel in comparison to the previous SCX10's, yes the portal axels play a big part in that but there is more going on, starting with the tires. Axial designed a brand new tire for the SCX10 III, the R35 compound Nitto Trail Grappler's are wider and a little taller (4.7 x 1.7) then the older Nitto Trail Grappler's. Wider is better, the wider the footprint of a tire is, the better planted the rig will be to the ground. The SCX10 III is a bit top heavy so the tires really help the rig from not rolling over as much, and of course, a bigger tire means you can get over obstacles with ease because it increases the ground clearance of the rig as well. Wheel speed can be 50, 50 splits, some people love having the second gear in a trans and the other half could care less. I prefer the Dig function myself being hooked up over the second speed, and Axial choosing to make the dig ready really separates the SCX10 III from its main competition. On the rocks the SCX10 III RTR dominates like no other SCX10, lose dirt seemed to be the only element the SCX10 III had to work on. The Team over at Axial really did some great stuff on the SCX10 III and the rig can back it on the trails!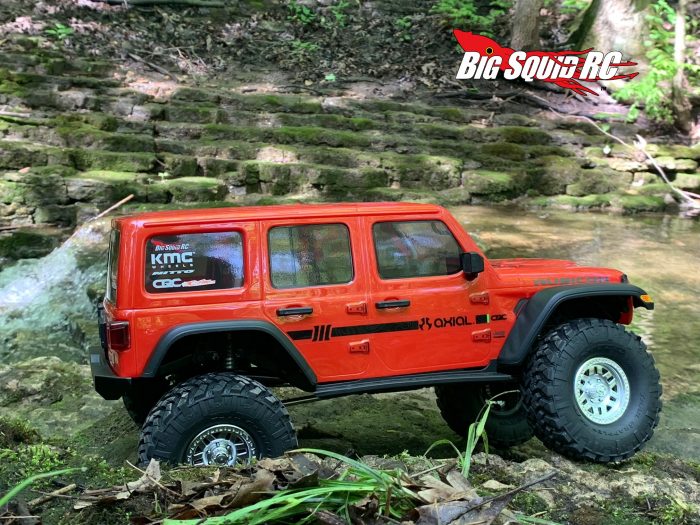 Broken parts: As much as our test rig rolled over and fell down some crazy big hills, other than some trail rash the SCX10 III is still up and running!
Best Mod: Even though the stock servo is manageable I would still swap it out for a Reefs Triple 7.  Why wouldn't you want to turn even better?
Summary:
A= outstanding/Best in class, B = Above Average, C =Average, D = Below Average, F = Horrific
Time to Bash: B+. Getting the rig ready for the trails can take a few extra minutes when dealing with getting the body 100% lined up. Little trick to avoid messing with mounting the body longer then you need to, try to pull the front fenders out as you line up the body mounts, this way the body will not get snagged on the inner fenders.
Workability: B+. If your new to the hobby, the SCX10 III may take you some time to work on. Multiple servos and lots of wires can overwhelm you a bit, but once you establish a rhythm the SCX10 III it is not bad to work on. The motor plate makes swapping out motors painless and quick.
Car Show Rating: A-. The Jeep JLU Wrangler body is sharp looking with TONS of injected molded parts. Your color options are Orange or Gray and let me say that the Orange body looks amazing in person, pictures do not do it justice. Under the hood, Axial went the extra mile and added a replica V8 engine, transmission housing, and transfer case to cover the motor and chassis mounted servo.  The interior looks good and has a detailed dash along with a few different hat options for your driver. I do how ever feel that Axial could of went that extra mile on the interior like they did with everything else because there is more than enough room to drop down the interior, have realistic seats.
Bash-A-Bility:  A. Any rig that can make it through our testing is built well. The SCX10 III took some abuse from seasoned drivers and even a first-time driver. There is a click or tick in the transmission and the sound apparently comes from a gear in the trans when the rig is under load. Lucky the clicking is just that, clicking, and does not interfere with the performance of the SCX10 III
Handling: A. Next to the Axial Capra, the SCX10 III is one of Axial Racing's better handling rigs. Yes, its top heavy at times but can still manage to side hill and even scale up a flowing waterfall! The AR45 Portal axles and the larger Nitto Trail Grappler's will get this rig trough and over just about anything. If the rig is to stiff or to soft the aluminum adjustable shocks are great for on the fly trail adjustments.
Value: A-. Coming in at 499.99 is a decent price for what you are buying. A licensed 2020 Jeep Wrangler Unlimited four-door body, DIG, two speed transmission (with additional servo like SPMSSX107 added), LED headlights and tail lights, a SPEKTRUM DX3 2.4GHz DSMR transmitter, which is awesome for us one handed drivers, and of course, one of the most capable rigs that is available to the public now.
Parts Availability: A. Axial has one of the best parts supports around recently. Finding stock parts as well asafter market parts should not be an issue.
Big Squid Rating: A-. Axial Racing has made massive strides in just the last two years with their rig line up. The quality and attention to detail has become expected when you buy an Axial rig. They have made it their mission to be the top dog in the crawler market, and they are putting up the good fight! The SCX10 III is going to a tough act to follow for any company. The performance, scale details, and next gen electronics should make the SCX10 III a popular choice this summer!
See it in action here: