Axial Racing Teaser – Dakar – Enduro – Motorcycle?
Earlier today, Axial Racing posted this teaser shot over on their Official Twitter Page. First off, that is not your standard scale crawler tire! Initial guess, it's a dirt bike tire. With the hint of the SCORE decal in the background, we can start piecing the puzzle together. Axial recently also posted they were in attendance for the announcement of the course map for the BAJA 1000. You can also see a motorcycle in their pictures which is probably another hint. The Dakar scene has been growing leaps and bounds these last few years. Along side of that the adventure bike scene has also been finding popularity with guys who like to ride and get a little off-road action in. Heck several of the Big Squid RC crew have adventure bikes! We would love to see some huge announcement of a SCORE and BAJA tie in, and throw in some Red Bull? We also have our fingers crossed for a sweet rider. We don't just want a bike, we need a rider on top, with a skull head! That would make the crew here pretty happy.
As a side note, one of our Axial insiders tried to throw us off the path by saying, maybe it's a Florida Mud Racer! Now we know this would of also gotten a bunch of people excited, but we are sticking with the bike.
Stay tuned, as we will have all the details for you very shortly!
Hmm, Axial Racing Motorcycle, that's going to take some getting used to for typing.
Here's a bike in a nice Axial green as an example of what we may be able to expect!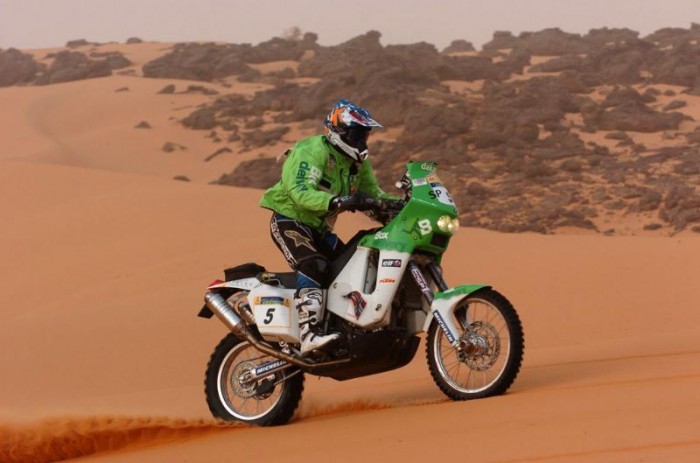 Can't get enough Axial news? Find more Right Here on BigSquidRC.