Axial Racing – Wraith Spawn Rock Racer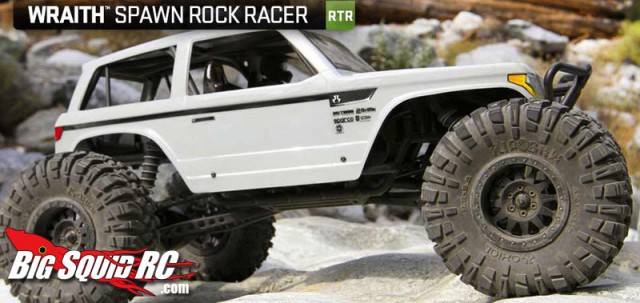 Axial has given the go ahead to talk about the new Axial Racing Wraith Spawn Rock Racer. Besides the Axial standard of plenty of licensed parts, they have continued to update and refine the already proven Wraith platform. Axial continues to drive towards more waterproofing, and with winter coming up, we know that's an important box to check off. The ESC, Steering Servo, and Receiver box now all claim waterproof. For those of you that have been thinking about picking up a Wraith, maybe this is the one that tickles your fancy?
Some highlight features are:
• WB8 HD Wildboar™ driveshafts
• Dual slipper clutch
• Single-coil, adjustable shocks
• Heavy duty differential lockers
• Officially licensed 2.2 Method IFD™ beadlock wheels
• New Spawn body on full tube frame composite chassis
• Driver figure and molded interior
• 2.2 Ripsaw™ tires
• AE-5 ESC w/ drag brake – 3S LiPo capable (waterproof)
• 20T motor
• Metal gear Tactic TSX45 MG servo, 151 oz-in, water resistant
• Waterproof receiver box
• Spawn body compatible with Wraith, AX10 and SCX10 chassis
The part number is #AX90045, and it is priced at $369. You can get complete details by heading over to This Link on the Axial website.
Make sure to check out the video below!