Axial RECON G6 – Big Squid RC Driver's Challenge Stage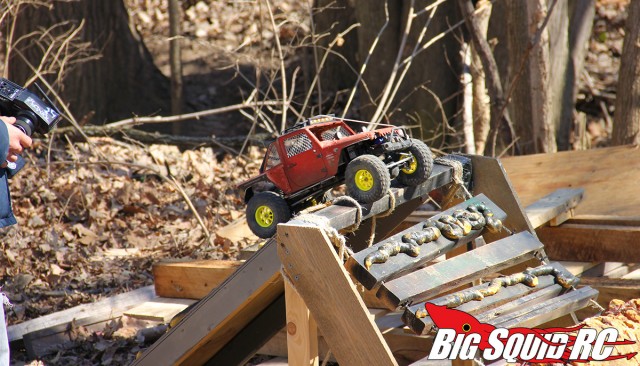 One of the cool things about Axial Recon G6 competition is that each event encourages local club participation by way of driver challenges. A G6 driver's challenge can consist of almost anything; it may be as simple as a tough obstacle or something as crazy as building a raft to float their rig down a creek. I remember when I attended my first G6 last year a local hobby shop had sponsored a special "glider" section wherein drivers had to put down their remotes and try to fly a balsa glider onto a target for a time bonus. You never know what you may see.
That brings us to the "Iron Mountain Depot Recon G6" (all info right here) taking place here in St. Louis on April 12. Big Squid RC is sponsoring a special driver's challenge  consisting of a stretch of obstacles that we built (thanks to the club I'm a part of for all their work, Show-Me Scalers) to test the skill of many a G6'er. Running the obstacles extensively would be against the spirit of competition so we only hit them a couple times for photo purposes. They are very tough, which is perfect! Check out some teasers below.
If you plan on coming out please say hello (I'll be in Big Squid garb w/ my hot rod flamed Axial SCX10 JK) and score some BSRC stickers for your rig!
For more Axial news on Big Squid you can click here.