Axial RR10 Bomber Review
When the Axial RR10 Bomber was first announced, it was a bit of a surprise to many people. Of course we were more than eager to get our hands on their latest ride, and put it to the test. As you can see, during our testing we had all sorts of weather, so there were plenty of opportunities to push the vehicle to the limit. How did it do? Keep reading to find out…
From: Axial
Direct Link: RR10 Bomber
Unboxing Pictures: RR10 Bomber Unboxing
Review By: Adam "The Intern"
Photography By: Allyson Schwartz
Specs:
RTR or Kit: RTR
Age: 14+
2wd or 4wd: 4wd
Shaft or Belt: Shaft
Electric or Gas: Electric
Waterproof: Yes
Scale: 1/10th
Length: 22.4″
Width: 11″
Wheelbase: 14.75″
Weight: 6.25lbs
Motor: 35 turn brushed Axial motor
Speed Controller: AE-5 ESC
Low Voltage Cut-off: Yes
Radio: TACTIC TTX300 3-CHANNEL
Stability Control: No
Sound Module: No
Self-righting: Sometimes
Differential: Locked Front and Rear
Slipper Clutch: Yes
Driveshafts: Plastic and Metal
Shocks: Aluminum bodies, plastic caps
Servo Saver: No
Screws: Metric, hex
Spur/Pinion Pitch: 48
Bearings: Yes
Tires: BFGOODRICH® BAJA T/A® KR2 TIRES – S30 COMPOUND
Battery: Not included
Part Number: AX90048
Warranty: 10 days on electronics
Bashing Specs:
Runtime: 45 minutes on a 2s 3000
Street Price: $399
Primary Competition: Any real competition that the new Bomber would have is from other Axial vehicles. The Yeti and Wraith are both close in size and can be built to compete with the rig.
What's Needed To Complete: This truck comes ready to hit the rocks straight out of the box! All you will need is a 2 or 3s Lipo and 4 AA batteries for the transmitter.
Build Quality: Axial did a great job on the RR10 Bomber. They have switched back to fine thread hardware which makes a huge difference on how well the truck holds together during bashing and crawling. The shocks have aluminum bodies and are threaded for quick and easy suspension tuning. The axles are equipped with aluminum drive hexes to prevent stripping. The attention to detail on this truck is impressive. Almost everything on its 1:1 look alike has been covered down to the sponsors.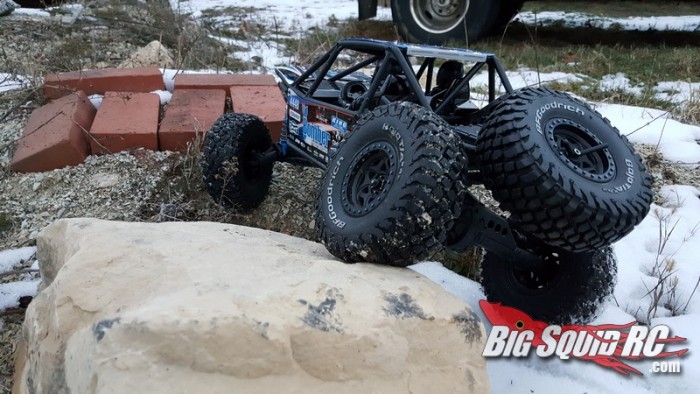 Test Drivers: Adam "The Intern", Sideways Jim, Don Juan, and Billy.
Test Venues: Nowell Park, Hammel Woods, and Big Squids private crawl course.
Set-up Notes: No mods were needed, the ESC comes equipped with a deans plug already installed (although, I simply could not resist breaking out the silver sharpie and a blue paint marker to give the bomber some detailed color).
Turning: The axles allow a great amount of steering for crawling which comes in handy quite often on tight trails and when maneuvering through rocks. The only problem we encountered was after the first sizable jump, the stock plastic servo arm stripped out. We picked up an aluminum arm at the local hobby shop and it was good as new. The metal gear Tactic servo took a lot of abuse and had no problem pointing the tires wherever we desired.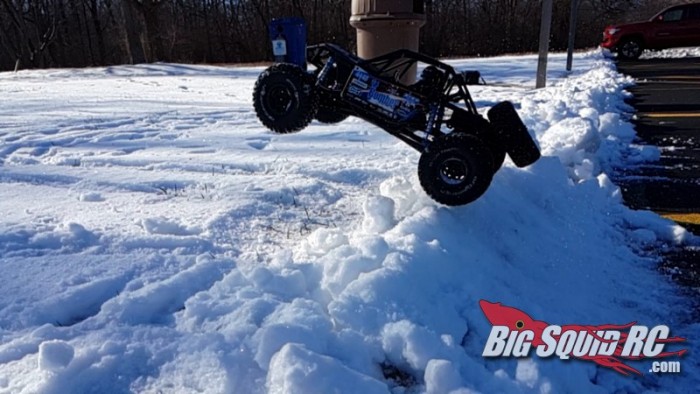 Jumping: Being that this truck is a rock racer it is designed to handle jumping and speed better than a normal crawler or tube buggy. When jumping the Bomber, it is a very balanced layout and handles jumps just like the real deal. The aluminum King shocks hold up great and handle the weight of the truck well. Some thicker shock oil would make a big difference in the stability when landing, there were times when the shock rebounded too quickly letting the rig bounce and sometimes flip.
Rocks: With the massive amount of flex this rig is capable of, it performed flawlessly as a rock crawler. With the nice under-the-hood battery placement, The RR10 Bomber evenly disperses its weight which will be an advantage when climbing steep inclines.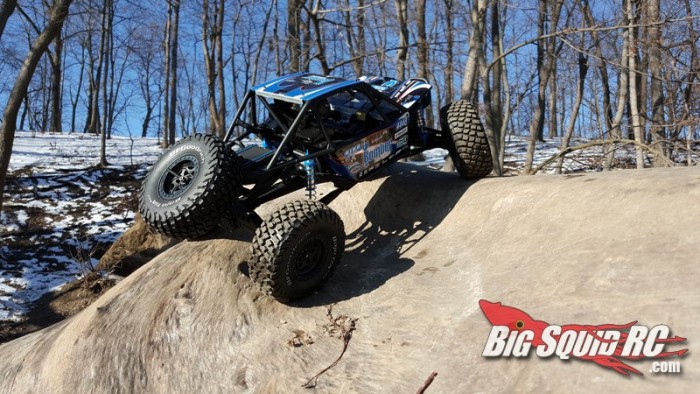 Snow: Normally this category would be grass; however, due to the weather we had no access to grass that wasn't frozen… So snowy terrain would suffice for the duration of my test runs. Surprisingly the RR10 Bomber did great! There was plenty of traction on ice and frozen surfaces. Overall, the rig performed well given the circumstances.
Tires: Axial's BFGOODRICH® BAJA T/A® KR2 tires provide some serious traction on just about any surface. The S-30 compound provides just enough give to let the tires bite hard on rocks while being stiff enough to prevent the tire from wrapping under the axle during tight turns. When building a rock racer it is important to keep that happy medium between firm and soft in order to provide great performance on all surfaces.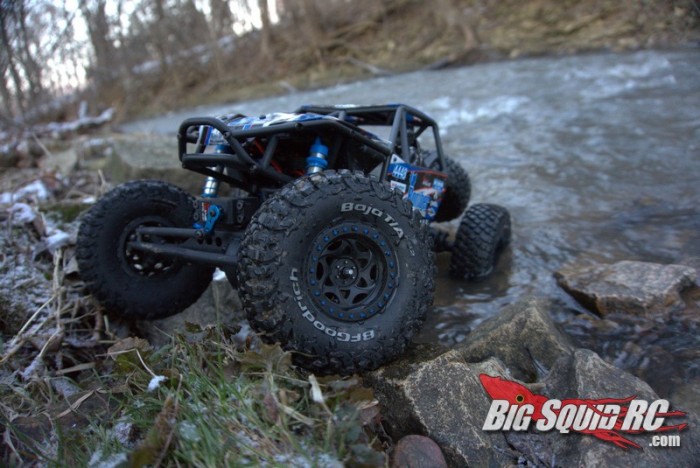 Power: For being a rock racer it would've been great to see a brushless system in this one. The 35t motor just doesn't have the punch this rig deserves and needs. The stock motor is great for crawling but a 3s lipo is the only way to get some wheel speed out of it.
Broken Parts: The only part that broke after all we put the rig through was the stock steering servo arm. It wouldn't be a bad idea to pickup an aluminum one for about 7$ when purchasing the rig to ensure you don't end up out on the trail without steering.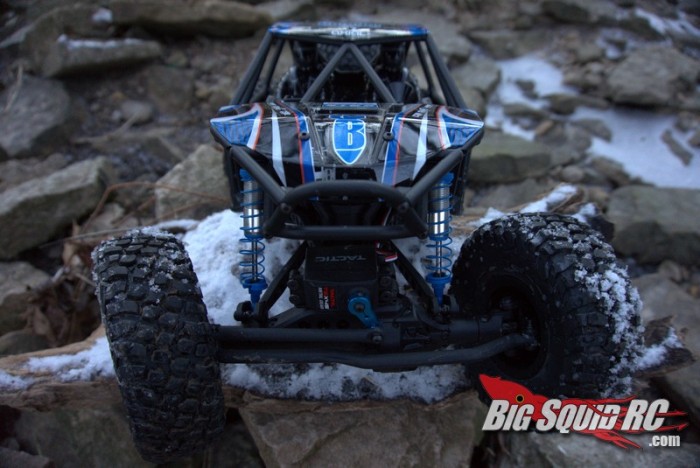 Misc Notes: In order to run a lipo, one will need to program the ESC. This may be difficult for a newbie to figure out if he or she isn't familiar with programming the system. Thankfully, Axial has come up with a solution. Unlike other companies, the included AE-5 in the Bomber can switch from lipo cut-off mode to NiMh mode with a simple jumper plug.
Best Mod: The first thing the Bomber needs desperately is more power. A sensored or sensorless crawler brushless would fit great and provide more speed for jumps and ruts. Another nice mod to keep in mind would be Axial's 2 speed conversion kit available HERE. The kit uses the stock transmission and bolts right in, all you will need to provide is a shift servo. The Tactic remote that is included with the RTR has a third channel that can be used for shifting gears.
---
Summary: Overall, whether you are new to the hobby and interested in a vehicle that can perform great on a wide variety of terrains, or an experienced scale driver looking to do some rock racing, the Axial RR10 Bomber would be a great place to get started.
---
A = Outstanding/Best in Class, B = Above Average, C = Average, D = Below Average, F = Horrific
Time To Bash: A- The included deans plug definitely saves some time when opening up the new truck because it is one less thing stopping you from running your truck straight out of the box.
Workability: A 8 Bolts and the entire cage lifts off the skid allowing full access to the motor, ESC, transmission, drive shafts, and receiver box.
Car Show Rating: A+ Axial did a great job detailing the Bomber, with some imagination and creativity using paint and a sharpie you can take the detail to the next level and make a VERY scale truck.
Bash-A-Bility: B The Bomber proved itself to be very durable the only weak point we encountered was the weak servo arm.
Fun Factor: C+  With some more power there could have been bigger jumps and more bashing which, in turn, would equal more fun, but the stock system was ok.
Handling: A The wide stance and low center of gravity helps the bomber keep the tires planted when screaming around corners, great for rock racing.
Value: B-  $399 is in the ball park, but the value would be better if the truck had a better power plant or an included battery.
Parts Availability:B+ This rig shares a lot of parts with trucks that have already been out for some time so most of the parts for the axles and drive train are readily available in most hobby shops.
BigSquid Rating: B+ Overall the rig took a lot of abuse and ran smooth with everything we threw at it.
Enjoy all the extra pics!