Axial SCX10 2012 Jeep Wrangler Unlimited Rubicon Kit Review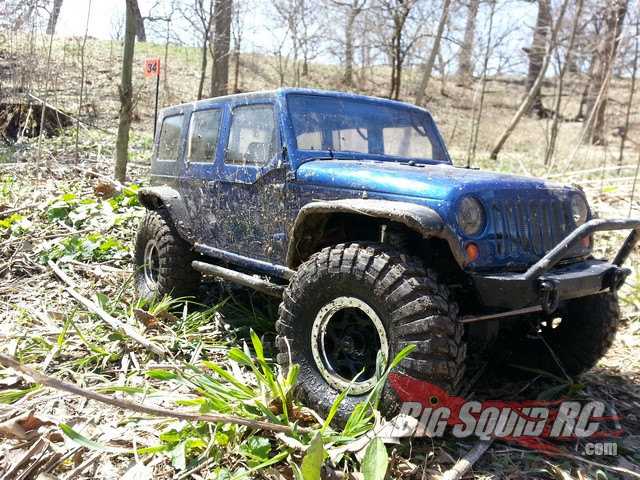 Hey guys, Adam the intern here with a review of Axial's 2012 Jeep Wrangler Unlimited Rubicon Kit! I put it though some serious tests to see what it was made of and had some interesting results…  Press READ MORE to see my complete thoughts.

Review By: Adam the intern
Specs: Width:9″ (229mm)Length21.24″ (540mm)Height:9″ (229mm) Wheelbase:12.3″ (313mm)Ground Clearance:2.7″ (68mm)Weight:4.65lb (2.1kg)
Primary Competition: Other Axial crawlers and RC4WD scale trucks.
What's Needed To Complete: The truck is a kit so you will need to supply a radio, motor, speed control, servo, battery,charger, and paint for the clear lexan body.
Test Drivers: Adam the intern
Test Venues: Different state parks and a scale crawl event at Dolinger's Pumpkin patch.
Set-up Notes: When building this truck I wanted it to have enough power to really get the tires spinning  so a Viper Vtx10 esc with a Viper vst 8.5T motor combo was chosen and geared low so the truck wouldn't lose torque. For the steering it got a Hitec 645mg steel gear servo and an aluminum servo arm. Finally for the radio I used a standard Axial 2.4Ghz included with their RTRs that I got a while back.
Turning: With the kit Axial includes aluminum steering links which not only look good but don't bend when the wheels are under a load while crawling. This helps because the steering links on RTR crawlers work well but if you get bound up in a trail and need to turn your tires the links normally just bend while the tires just sit there.
Jumping: The Jeep handled jumping well for a scaler: certain hills that had a tricky angle to them were thought of as an opportunity to launch but weren't enough to break the tough little truck! Landings went surprisingly smooth thanks to Axial's new aluminum shocks.
Bumps/Whoops: When faced with rough terrain the suspension was soft enough to allow the axles to move and keep the truck gliding smoothly across most surfaces.
Off-Road: The off-road capability of this truck is better than the RTR version and I think most of the credit for that should be given to the extremely smooth aluminum shocks! The new shocks from Axial are smoother than ever and look great! They really make the truck look cool when its flexed out and the machined aluminum shock is seen in the wheel well.
Grass: I got the chance to rip though some high grass, which was interesting to say the least. It was almost like driving a boat: the front end was up high while the rear stayed down in the grass and the truck leaned when I turned. It looked pretty funny but the truck had no problem going through the grass.
Tires: The tires proved themselves VERY capable! Molded in R35 sticky compound the Maxxis Trepador tires are bigger in diameter than normal 1.9s and look great! The taller size helps with giving more axle clearence than the old scx10 and looks a lot better with the Jeep body! It would have been very nice if the kit had come with bead lock rims.
Power: At the crawl event the Rubicon earned the nickname "Hemi Swap" because it had so much power that it resembled a real life Rubicon that had a Hemi. If the truck got stuck there was a good chance that pulling the trigger would get it out and when going over jump-like hills it was fun to float over the top getting some air.
Radio: I went ahead and used the same remote that Axial supplies with their RTRs which I like very much. Its one of very few RTR remotes that doesn't jam the throttle to full if the remote is turned off by accident. Having a fail-safe is a very important feature to have especially if you own a brushless vehicle that could break an ankle.
Broken Parts: Nothing broke at all on this well designed scaler! It took a serious beating and the strength of all the gears were put to the test with the motor that was chosen. Everything went very smooth and all the trans/axle gears are in perfect shape.
Misc Notes: Axial included the removable hard top which is VERY cool but once you bolt it on, it is difficult to get to the body clips to remove the body… The only way is to unbolt the top while trying not to lose any of the tiny screws in the process.
Best Mod Under $5: Definitely a driver! Whether it's a cheap wrestler from Walmart or a pilot made for an airplane this truck needs a driver!
Best Mod Over $5: Probably some lights or a winch. The new Integy winch looks great and would really add some scale looks to the Rubicon.
---
SUMMARY:
A = Outstanding/Best in Class, B = Above Average, C = Average, D = Below Average, F = Horrific
Time To Bash: C The Jeep is a kit so it comes as a box full of parts waiting for you to assemble so I would recommend you make sure you have all the right tools before you start your build so no bolts are stripped.
Workability: C A very nice setup which isn't hard to work on at all. A lot of the parts on the truck resemble the real thing so if you have an automotive background then working on the Jeep will come easy.
Car Show Rating: A This truck had some major improvements to it's scale looks which made it even cooler than an average SCX10. The Poison Spider Bumpers really set off the look and scale functions! The removable hardtop proved to be extremely eye catching! The only thing that the truck needed that I think Axial could have pulled off.. was a driver!
Bash-A-Bility: A Nothing broke on this truck after all the abuse it was put through! It earned its rating!
Fun Factor: B VERY FUN! Especially when you pull out the camera and capture pictures that even have you guessing whether or not its a real truck!
Handling: B Even though the system that I used made it way too fast the truck handled it very well and was A LOT of fun!
Value: C The price would be more understandable if they had included upper aluminum links along with bead locks but its still worth it if you're looking to build your rig instead of  just plugging it in.
Big Squid Rating: B Once again it's a very solid truck and holds together well. It would make a project truck if you have never built a kit before; its a great experience. The kit builds a very reliable/capable truck that will be a lot of fun to crawl with for a long time! Great job Axial!