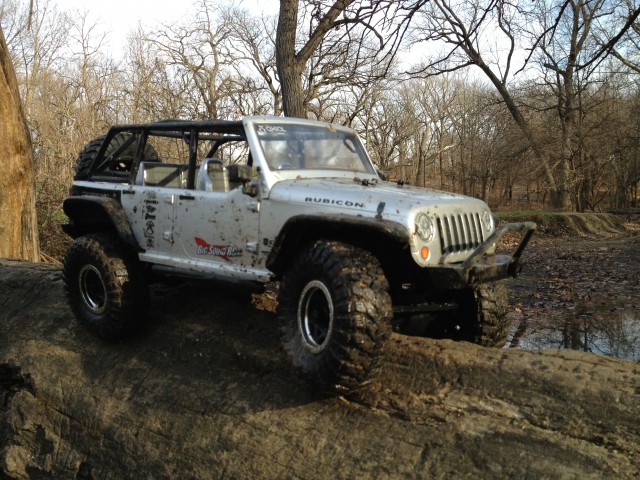 Axial has really been cranking out the quality scale stuff lately. If you are into the crawler scene, or looking to make the jump, Axial is the name you need to know. So how does their new SCX10 Jeep Wrangler Unlimited Rubicon hold up with their high standards? Does it leave the competition stuck on a trail waiting for a winch? Or does the Axial need to use the winch? Keep reading to find out…
 Review By: Adam the intern
 Specs: Width:9″ (229mm)Length21.24″ (540mm)Height:9″ (229mm) Wheelbase:12.3″ (313mm)Ground Clearance:2.7″ (68mm)Weight:4.65lb (2.1kg)Motor27T 540/550 sizeRadioTwo ChannelServosOne digital, high-torque metal gear (standard size)ESCForward and reverse ESC
 Primary Competition: Axial scx10 honcho/dingo
 What's Needed To Complete: The truck comes pre-built and ready to go, but requires a battery and charger.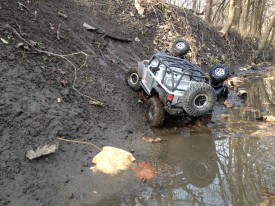 Test Drivers: Adam the intern, Melissa, and Juan.
Test Venues: Local parks and crawl spots
Set-up Notes: After running the truck for the first time straight out of the box, I went ahead and used the supplied option parts to move the battery mount to the front of the frame. This gave the truck better weight distribution and kept if from doing wheelies on the trail.
Turning: The truck comes equipped with a digital high torque steel gear servo that has no problems turning the wheels. When i adjusted the drive range on the remote the servo was able to max out the steering in both directions which comes in handy on tight trails.
Jumping: Normally this section would be left blank during the review of a scale crawler but we decided to have some fun and really see how much of a beating the Jeep Wrangler Rubicon would take! We jumped it down stairs, off a table, over roots on the trail, off my trampoline…. you name it.. the Jeep took a fall from it! lol.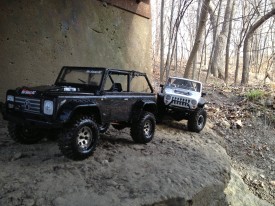 Bumps/Whoops: The jeep had no problem gliding over any bumps along the trail. Axial's 27 turn motors provided just enough speed to get the tires spinning and bouncing over rough/uneven terrain.
Off-Road: The Rubicon is a very capable truck for an RTR it has a 3-link in the front and a 4-link in the rear which proves to be a preaty decent combination! The truck has plenty of articulation and locked diffs, add that to a bullet-proof drivetrain and improved electronics and you have a trail ready rig that comes ready to go!
Grass: The 1.9s did have some trouble in high grass but it would make it with some rapid reversing and constant acceleration.
Tires: The tires proved themselves VERY capable! Molded in R35 sticky compound the Maxxis Trepador tires are bigger in diameter than normal 1.9s and look great! The taller size helps with giving more axle clearence than the old scx10 and look a lot better with the jeep body! If only they would have been on bead-locks…
Power: Axial gave the truck a 27 turn motor which is my personal favorite motorwhen it comes  to scale crawling because it has some speed but will still crawl when geared right. The truck has plenty of power and speed for what it is made for and certainly had no problem pulling out Juan's scx10 every chance it had.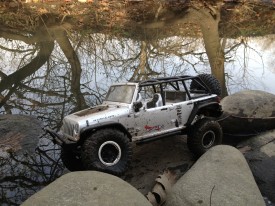 Radio: The AX-3 2.4GHz , Axial's new radio is one of my favorite rtr 2.4s if the remote is shut off while the car is still on the car will not take off which really is a nice feature to have! I can't even keep track of how many times I've had cars launch at full throttle because I accidentally turned off my remote.
Broken Parts: The Jeep is a VERY solid truck and I had a hard time finding any weak points and only one thing has broke so far after weeks of abuse. I stripped a spur gear, which the mesh sounded a little loose out of the box so maybe it was slightly off from the factory but after I replaced the spur no other problems have happened. Other than that a very outstanding rig.
Misc Notes: Axial included an extra set of stickers for the body and a lot of other extras!
Best Mod Under $5: Defiantly some other plug besides the old style Tamiya. Normally I would have an exciting mod for this section but with this truck, that is the only small thing that I have/would change.
Best Mod Over $5: Some led lighting! Axial used to always have lights on their trail ready trucks but this rig is missing them. Would have added a very nice touch and would have been very useful during testing!
---
WE have a TON of pictures for this one, check out the galleries below.
---
SUMMARY:
A = Outstanding/Best in Class, B = Above Average, C = Average, D = Below Average, F = Horrific
Time To Bash: C The Jeep is 100% ready to go out of the box. All you will need is a battery and a charger of your choice and you'll be tearing up the trails in no time!
Workability: C A very nice setup which isn't hard to work on at all. A lot of the parts on the truck resemble the real thing so if you have an automotive background then working on the Jeep will come easy.
Car Show Rating: A This truck had some major improvements to it's scale looks which made it even cooler than an average SCX10. The Poison Spider Bumpers really set off the look and scale functions! Extremely eye catching! The only thing that the truck needed that I think Axial could have pulled off.. was a driver!
Bash-A-Bility: C Would have been an A  but the spur gear  couldn't take the abuse.
Fun Factor: B VERY FUN! Especially when you pull out the camera and capture pictures that even have you guessing weather or not its a real truck!
Handling: C Even though its not super fast the handling rating comes down to one thing.. Torque! Plenty of torque to turn the wheels wherever you want them.
Value: C Although it's awesome out of the box the price tag may turn some people away because it's a little steep.
Big Squid Rating: B Once again it's a very solid truck and holds together well. It would make a great starter vehicle if you were looking to get into crawling/scaling. I have recommended this truck to many of my friends and the ones who got one loved it just like me. Great job Axial!