Axial SCX10 Jeep Wrangler G6 Falken Edition RTR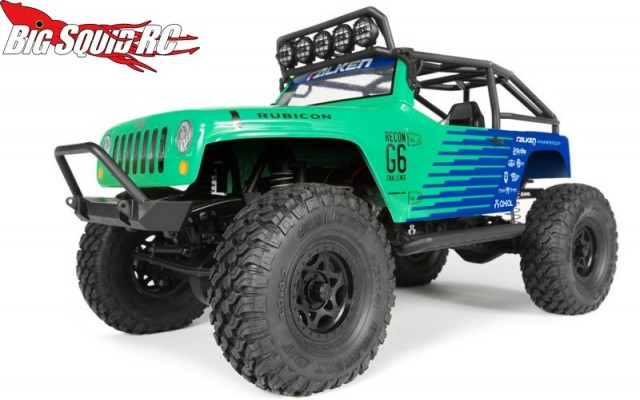 New from Axial is their SCX10 Jeep Wrangler G6 Falken Edition. The latest Axial sports a fully licensed dovetail Jeep body with special Falken livery and is loaded with scale detailing from front to rear. The uber scale realism on the outside is mounted on top of the SCX10 platform, a platform that has long proven itself to be extremely reliable out on the trail.
* Comes with 1.9″ Falken WildPeak Mud Terrain tires
* Walker Evans Racing wheels
* Detailed interior
* Dual slipper clutch
* Hardened steel axles with heavy duty diff lockers
* Features WB8 HD Wildboar Driveshafts
* Poison Spyder Rock Brawler front bumper
* 5 bucket light bar set with choice of plain, Axial, and licensed PIAA grille covers
* 4-link rear suspension
* Steel c-channel frame
* Axial AX-3 2.4GHz transmitter
* Tactic metal gear 151 oz-in servo
* 3S LiPo capable Axial AE-5 speed controller
The part number is #AX90036, it is priced at $349, and you can get complete details by hitting up This Link over on the Axial website.
Happy Friday, why not risk it on a TGIF Mystery Link?