I've always been one to champion the Axial SCX10 for its versatility. The truck can be counted on to do a bunch of stuff with minimal work. For a personal example of this, I recently wrote a couple articles showcasing how easy it is to turn it into a pulling truck. With that in mind, a product recently hit the marketplace that interested me so much that I decided to tear the ole' pulling truck down and start a new conversion for it – a mud truck.
The product I speak of is the RCBros Burly Mud Truck Conversion kit. Priced at $35, it's a chassis extension that raises your frame rails (and everything attached to them, like body mounts) while simultaneously adding a lower cradle to attach your transmission and skid plate to.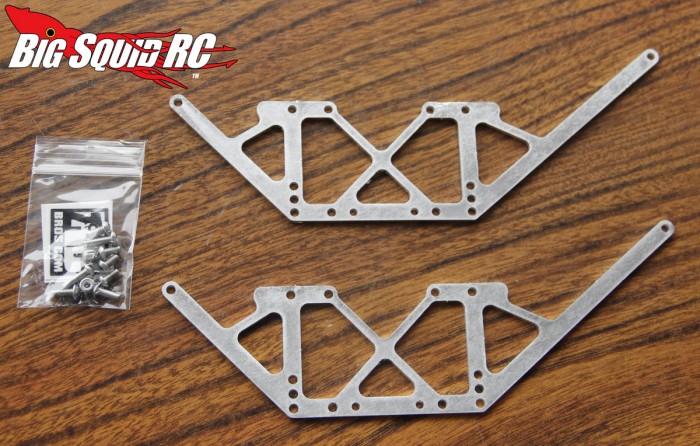 The purpose of this product is pretty ingenious. It solves the problem of how to run big 2.2 tires on a stock SCX10 without severe body chopping and/or using a lift kit that can negatively affect your truck's performance by way of severely raising the center of gravity and creating nasty driveshaft angles. It keeps the powertrain low and, as a bonus, simulates the look many modified mud boggers and mega trucks sport.
The kit includes two chassis plates and some hardware. You will also reuse some of the stock SCX10 screws. I found it to be a very simple installation. The shocks are relocated off the hoops and now mount directly into the chassis via previous holes. Here are a couple pics when I mocked it up. Note that for the pic I didn't use all the hardware, as the chassis plates were going to be heading to paint shortly thereafter.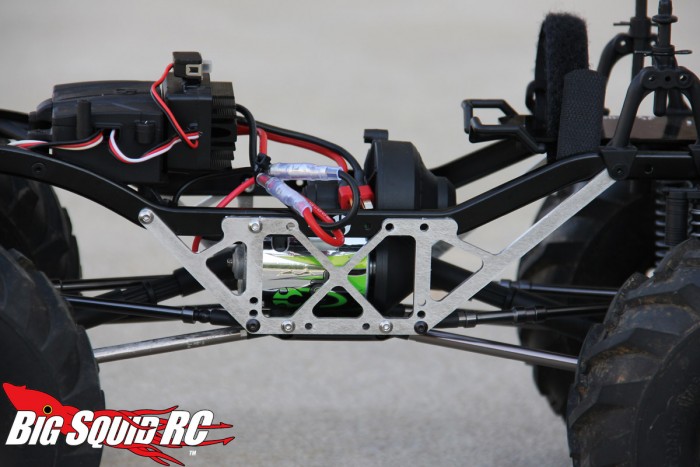 Given that this is a mud truck, I used 2.2 RC4WD Mud Basher tractor tires mounted to SSD Steel Wheels. I had been using them previously with my Wraith Spawn but they were just begging to be put on a project like this.
Next up was the body. The "Little Red Wagon" that this truck was sporting as a puller just didn't fit the attitude of a mudder. I wound up going with a Pro-Line Top Kick painted by my good buddy Todd Claire of Bodyz by TC. Because of the long wheelbase (about an inch and a half over what it was) I had to get creative with my links. I basically used 2 SCX10 rear link setups, with shock balls for spacers up front. The body also presented another challenge in that the stock body mounts wouldn't work up front so I had to add some L shape brackets.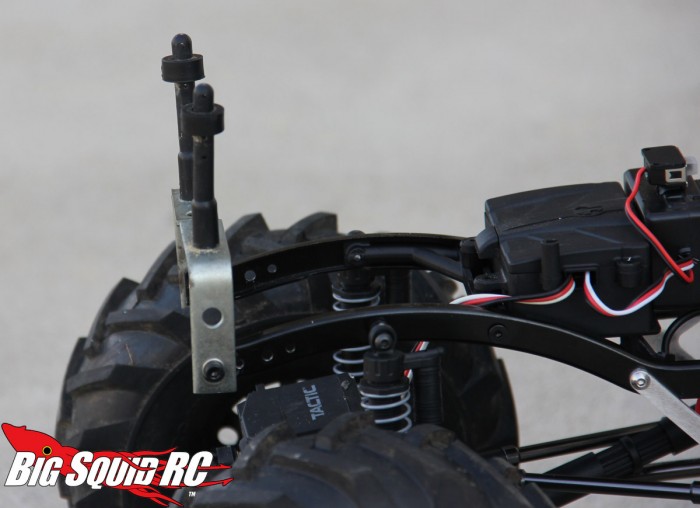 Ok, so there was one last piece of the puzzle – this truck would be just a pup if I used the stock motor. I went with something that's quickly becoming a hot setup for those wanting massive torque and good wheel speed – a Holmes Hobbies Puller Pro 540 3500kv Waterproof Sensored system. Yep, you read that right. WATERPROOF SENSORED. Wooo Hooo!
For mud bogging this would appear to be just what the doctor ordered. It's very similar looking to a Castle setup and uses Castle Link for programming. It's also supposed to pack the punch of a bigger, long can motor into a smaller 540 package.
So here she is, my newly named "Government Mule" Axial SCX10 mud truck, with the new mill installed and ready to rock. And hey, what's this? It seems that my good friend Chris, aka Claude Buster, decided to join in on the fun with his own Burly Mud Truck Conversion equipped SCX10, "Big Orange Honcho".
Ok, enough yammering. We've got a nasty hill & hole setup built that's just begging to be plowed through, and that's exactly what's going to happen in Part Two!  We are going to see just how "waterproof" this new Holmes Hobbies setup is and also share a few helpful "general r/c mudding" tips that I've picked up. Until then, have a teaser for what's to come 🙂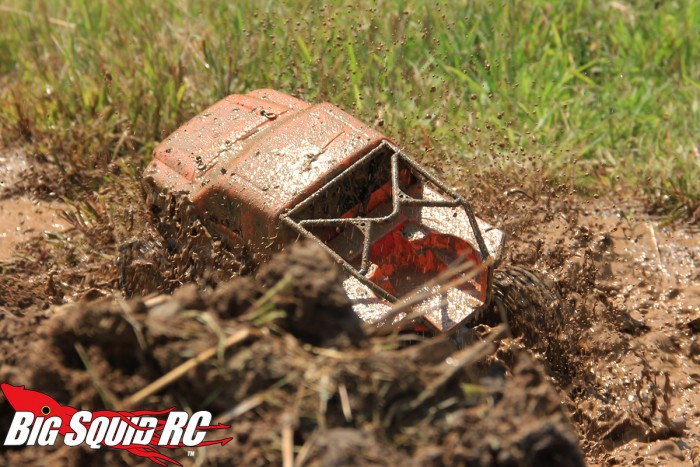 Click Here for Part Two of this project!
Click Right Here for more Axial news on BigSquidRC.